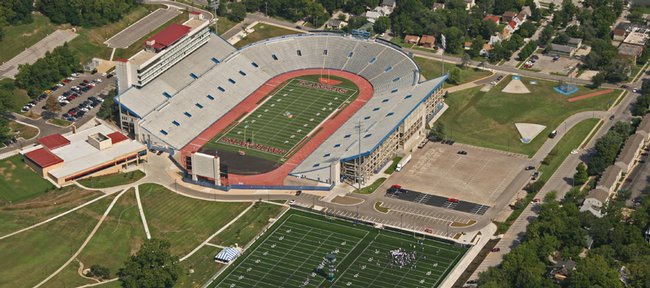 With construction crews making progress on Kansas University's new $39 million soccer, softball and track venue known as Rock Chalk Park, KU's athletic department has moved into more serious planning stages for a renovation to Memorial Stadium.
"We hope to have the planning phase complete by the end of basketball season," KU athletic director Sheahon Zenger told the Journal-World on Wednesday.
It's a work in progress, but Zenger said it covers far more than just the aesthetics of KU's football-stadium improvement, for which nearly a dozen different ideas and visions have been kicked around during the past several months.
Chief among the many factors that go into planning a project Zenger calls the biggest KU will undergo for the next 50 years is the department's ability to afford it. While no budget has been set, Zenger said the department is involved in an ongoing and in-depth review of its financial capabilities, the results of which will give Zenger and his staff a better understanding of what is needed to turn plans to modernize Memorial Stadium into reality.
Typically, major stadium renovations are funded through bonding, borrowing and fund-raising. All three remain on the table for Kansas. While the final price tag and the project's completion remain distant visions, the planning stage has been a project unto itself, and Zenger has maintained a couple of priorities throughout the process.
In late September, KU officials met with architects from Kansas City-based HNTB to begin working on the design concepts. In addition, Zenger has worked closely with Cliff Illig, a KU graduate and co-founder of Cerner Corporation, which has played a huge role in the increasing popularity of the Sporting Kansas City soccer club and its state-of-the-art stadium.
"That is an award-winning facility, and we want to walk closely with them in the redesign of Memorial Stadium," said Zenger, referencing the importance of enhancing the fan experience in the stands, with modern technology and through social venues. "There is added pressure to do it right because this isn't just any old stadium. This is also a memorial, and it holds special significance for so many people for so many reasons. We want to move it into the modern era while paying homage to the past at the same time."
To that end, those involved with the project have taken time to pay close attention to other collegiate renovation projects and focused on ways to make KU's football experience more intimate, which includes removing the track around the field.
With the heavy lifting of funding Rock Chalk Park and the DeBruce Center, which will house James Naismith's original rules of basketball, now in the past, every move Zenger makes brings KU closer to getting the Memorial Stadium facelift under way.
"We don't need to reinvent the wheel," Zenger said. "We need to look very seriously at all of the other models out there and come up with something that works for us, something that is both more modern and unique to the University of Kansas, just like Allen Fieldhouse."