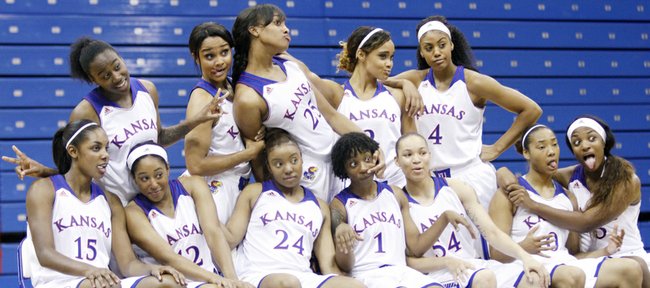 Photo Gallery
Kansas women basketball media day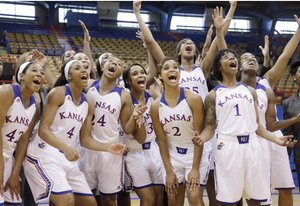 Images from Media Day with the Kansas women's basketball team.
Kansas University women's basketball coach Bonnie Henrickson stopped a morning practice Wednesday to talk about flare screens, explaining to freshman guard Dakota Gonzalez that when one came her way, she needed to go under the screener instead of following the person she was guarding.
On the next play, freshman forward Jada Brown made the same mistake … and practice was stopped again.
Speaking at Wednesday's media day, Henrickson says she has had to re-emphasize patience — even to herself — as it will be especially important with a 2013-14 team that lost three 1,000-point scorers while adding five freshmen who all should compete for immediate playing time.
"I continue to tell myself, 'Enjoy the process,'" Henrickson said, "because it will be a process to put this all together."
It's definitely different from the last two years, when KU rode experienced squads to a pair of Sweet 16 appearances.
This season, with so many newcomers and inexperienced veterans, Henrickson likens her team's identity to Silly Putty, saying it's still in the process of taking shape.
In early practices, Henrickson said there have been three main constants: excitement, energy and mistakes.
Henrickson will be counting on her returning players from last year's 20-14 team to improve as well.
That starts with junior guard Natalie Knight, who is back in practice after a season-ending ACL injury in January. Not only will the Olathe native need to be more aggressive with her shot, she also has been challenged to become more of a vocal leader.
"It's not something I'm necessarily been comfortable doing in the past, but coach Bonnie has been working with me a little bit on that," Knight said. "I think everybody's going to have to do a little bit more and push a little bit harder this year."
More also will be expected of junior forward Chelsea Gardner, who will need to be the Jayhawks' main scoring threat in the post following the graduation of KU's fifth-all-time leading scorer, Carolyn Davis.
Even a player like sophomore guard Lamaria Cole, who was limited to eight games last year because of turnover issues, will need to show she can be relied upon as KU's most natural player at point guard following Angel Goodrich's promotion to the WNBA.
Meanwhile, there's at least some pressure to keep riding the success. Henrickson knows the positives that a pair of deep postseason runs have had on recruiting, and to keep the program viewed in that way, her Jayhawks need to continue to be competitive in the Big 12 while competing for postseason berths.
"We have the same expectations. Our expectations are always high," KU senior guard CeCe Harper said. "We always want to make it as far as we can and reach our highest peak."
That's no different with the freshmen — guard Keyla Morgan, forward Caelynn Manning-Allen and Dylan Gonzalez join Brown and Dakota Gonzalez in the class — as they arrive knowing there's an opportunity to play right away.
"We're honored to be coming into a culture like this," Brown said. "We're taking it day by day and trying to find ourselves and our roles. We're going to do whatever the team needs us to do to try to get back to that place."
For now, that involves learning how to play deny defense on the help side, becoming versed in KU's terminology and also taking the right path when defending on the perimeter.
"I think the next time I do flare screens," Dakota Gonzalez said with a smile, "I will have them down."