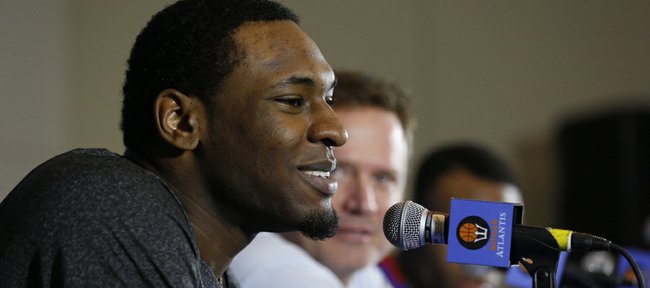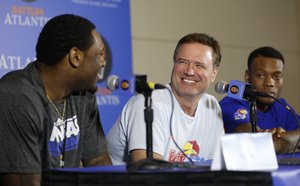 Paradise Island, Bahamas — It's not often a major-college basketball player gets a second chance, a "do-over," so to speak, in a holiday tournament played in an exotic locale.
But that's exactly the opportunity that awaits Kansas University senior power forward Tarik Black. He suffered two losses against one victory while playing for Memphis at the Battle 4 Atlantis last season, but is back in 2013 as a member of the tourney-favorite Kansas Jayhawks.
"I've been talking to the guys somewhat about it, but this is a whole new season," transfer Black said of last year's seventh-place finish out of eight teams.
Memphis lost to VCU and Minnesota before tripping Northern Iowa on the final day of the three-day extravaganza played at the Atlantis resort.
"I'm excited to be here again with a chance to do things a little bit differently, have a different type tournament and come out of here with a victory. But to be honest with you," he added, "coach (Bill Self) has been talking to me about letting go of the past — a fresh start, brand new season, new time for me, new team that is very talented that can come out of here with a championship. That's what I'm focused on."
KU (4-0) opens the tourney at 2:30 p.m., Central time, today, with a first-round game against (5-0) Wake Forest. A victory would push the Jayhawks into the semifinals against either Villanova (4-0) or USC (4-1) at 8:30 p.m., Friday. Finals against a team on the other side of the bracket (3-1 Tennessee, 3-2 UTEP, 5-0 Xavier, 5-0 Iowa) is 8:30 p.m., Saturday.
The games are played in the 3,900-seat Imperial Arena, which is normally a ballroom and convention center. It's intimate to say the least and should be three-fourths (or more) full of KU fans. Word at the box office is the KU-Wake game is sold out, as well as the semifinal and final, ticket-buyers assuming the Jayhawks will march through the winners bracket to the title game.
"It's a great atmosphere, unlike any other college arena or tournament," Black said. "The fans are so close. Last year I could have literally given anybody a high-five in the stands while I was on the bench.
"Even off the court ... fans see us walking around in the hotel. We walk to the games. Everything is right there (on the resort). It's tangible to everyone. It makes for a real cool situation unlike other venues or tournaments."
KU coach Bill Self says the more KU fans, the merrier.
"We've got our fair share here," Self said. "We chartered four planes total (three fan charters with 160 fans on each flight and one team charter). I'd say at least half the people came on their own, not by charter. I wouldn't be surprised if we have at least two grand for the game.
"I think it's great," Self added of the room the Jayhawk players practiced in on Wednesday afternoon before being awarded four hours of free time.
"I think part of the excitement of these tournaments a lot of times is playing in smaller venues. There is one going on in Maui and this one. I think it is cool. I think we'll be amazed how intense and how loud and what a factor the crowd could be playing in this venue. I think it's a very good venue."
KU junior point guard Naadir Tharpe has no complaints about the court.
"The lights are bright. The rims feel pretty good," he said. "There are different things like the ball (using Nike ball instead of adidas). It's a good thing we had a chance to work with them at practice. We're adjusting to it."
One feature of the ballroom is an especially low ceiling.

"Maybe the ceiling is a little lower or something like that than what we're used to. But I don't think it'll have much of an effect on whether or not we shoot the ball in the hole or not," Self said.
As far as the competition ... the Jayhawks have a healthy dose of respect for Wake Forest. The Demon Deacons of the ACC have cruised to victories — all at home — over Colgate, VMI, Presbyterian, Jacksonville and The Citadel.
"The most important thing is for us to get stops," Tharpe said of going against a Jeff Bzdelik team that likes to run to the tune of 85.6 ppg. KU averages 87.0. "We have to try to limit transition with them as much as we can. At the same time we have to make sure we put pressure on them."
Self has noticed the Deacons start 6-9 bookends in Devin Thomas (14.4 ppg, 11.6 rpg) and Tyler Cavanaugh (6.8 ppg, 5.4 rpg). "Their 4-man (Cavanaugh, 1-8 from three) can stretch it and shoot. A lot of times guys play better against big guys rather than having small guys on them. Hopefully it'll be good for us," Self said.
Levity: A local reporter, speaking in broken English, asked, "Where's Wiggins?" during a casual, brief KU news conference Wednesday that featured Self, Black and Tharpe. "Excuse me?" Self asked. "Where's Wiggins?" the reporter asked in a follow-up.
"He's probably eating," Self said with a smile.
Wandering: The KU players were allowed to explore the resort and the surrounding area for four hours Wednesday.
"Go to the beach, walk around as a team, the water slides (in pool). The guys are excited," Tharpe said.
"I'm kind of scared of the waterslide," Self said with a laugh.
It actually wasn't a great day weather-wise Wednesday. It poured in the early afternoon hours and ominous clouds were prevalent much of the afternoon with precipitation falling off and on.
Good matchup: Sophomore guard Codi Miller-McIntyre on matching up with Kansas: "I think it'll come down to who wants it more. A lot of things we run, they run and vice versa."
Business trip: Like KU, Wake is here to play basketball, not party. "Actually, I'm looking forward to just going outside. I haven't walked outside yet today," Bzdelik said. "Yesterday, I did walk outside, to the front of the hotel just to see."
He was asked if he liked what he saw.
"I just saw a bunch of cars pulling in. Is there a beach around here somewhere?"
Noted senior Travis McKie: "This is a business trip. We came down here to get better with these three games and move on as a team. Our families can have fun for us, but we have a job to do."
Argument between SC, UTEP: USC coach Andy Enfield and UTEP coach Tim Floyd were involved in a heated argument at Wednesday's Battle 4 Atlantis reception, Seth Davis of Sports Illustrated and CBS Sports reported Wednesday. Davis reported that Floyd jabbed his finger toward Enfield's chest and assistant coaches from the teams also were arguing at the reception.
"There is much bad blood between the coaches as Floyd accused Enfield and staff of tampering with UTEP signee Isaac Hamilton," Davis tweeted.
The teams could conceivably meet Saturday in a consolation bracket game.
Enfield recently said this about Floyd in Men's Journal magazine: "Tim Floyd shows up every day at work and realizes he lives in El Paso, Texas. And he's (ticked) off that he didn't get the USC job two months ago."