Thursday, November 28, 2013
Photo Gallery
KU basketball v. Wake Forest (Battle 4 Atlantis)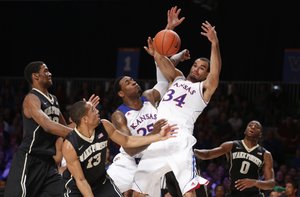 Images from Thursday's game between the Jayhawks and Demon Deacons in the Battle 4 Atlantis opening round.
Podcast episode
Kansas basketball coach Bill Self, and bench players Jamari Traylor and Frank Mason, discuss how the Jayhawks' bench helped them beat Wake Forest, 87-78, in an ugly Battle 4 Atlantis win.
Kansas 87, Wake Forest 78
Paradise Island, Bahamas — Down 14 points at halftime against the No. 2 team in the nation, Wake Forest University men's basketball coach Jeff Bzdelik knew his team wasn't through against Kansas.
His freedom from doubt came in large part due to the knowledge that his sophomore point guard, Codi MIller McIntyre, isn't the type to roll over and die.
Sure enough, the 6-foot-3 guard out of Concord, N.C., had plenty of fight in him, as did his Demon Deacons teammates. Together, they cut the KU lead to four early in the second half, and never let the Jayhawks run away in an 87-78 loss at the Battle 4 Atlantis.
"I tell ya what, I love my basketball team," Bzdelik said at the post-game press conference. "We have tremendous young men. They want very, very badly to win, and they play with great passion. From wire to wire, they'll give a great effort.
"We're not into moral victories at all," the coach added. "No. We're all hurting very much. We know we need to play better."
Wake Forest (5-1) connected on 55.6 percent of its shots in the second half, as well as six of its 11 three-pointers. But Bzdelik said his team's 18-for-29 free-throw shooting on the afternoon, and KU's 15 offensive rebounds (the Jayhawks' 15 second-chance points in the first half, in particular) kept the Demon Deacons from making national headlines from Imperial Arena.
Miller-McIntyre led all scorers with 26 points. In 34 minutes, he didn't turn the ball over once and passed out four assists.
"This young man sitting next to me," Bzdelik said, nodding toward his sophomore star, "I've been coaching for a long time and he's one of the best I've ever been around, at any level."
Of course, the coach added, Miller-McIntyre achieved that level of play by working in the offseason.
"I've never seen a young man put the amount of time into his game as he has both on the court, in the weight room and cerebrally," his coach raved. "He's studying the game, he's constantly watching film. He watches more film, as much film as us, as coaches."
After the nine-point setback to Kansas (5-0), the point guard kept dwelling on missed chances, because he had every intention of carrying his team to an upset -- not that anybody on Wake's roster would have considered it one.
"We gave it a lot, but we didn't do everything we could've, including myself," Miller-McIntyre said. "There was a couple of times when I missed a box out and my man actually got the offensive board and got the layup."
Hanging around with the Jayhawks, he added, wasn't the end goal.
"I hate the term moral victories," the team's leader said. "They're just another team. They're a great team, but just another team (on the Deacons' schedule)."