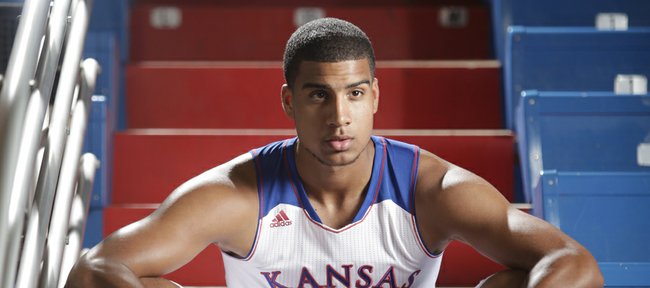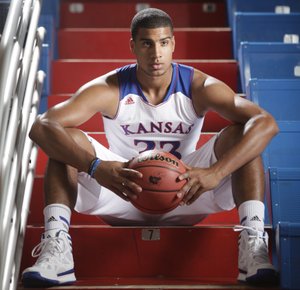 Kansas University's basketball big men — Tarik Black, Perry Ellis, Joel Embiid, Landen Lucas, Hunter Mickelson, Jamari Traylor and Justin Wesley — engage in some spirited battles at practice.
"It's pretty crazy," said Lucas, KU's 6-foot-10, 240-pound red-shirt freshman power forward from Portland, Ore. "Last year it was pretty much Jeff (Withey) and I guarding each other, and that's about it. This year you'll get matched up on so many different bigs. Everybody has their own skill set. I think it's good for all of us. We all get better."
Through four games, Lucas ranks as KU's fifth big in terms of playing time, ahead of Wesley. Mickelson can practice but not play in games this season in accordance with NCAA transfer rules.
"I've talked to coach a lot about it. We stay in constant communication about it," Lucas said of discussion about his role. "If there's one program where you are going to be patient, it's a program like this. I'm enjoying the ride and trying to get better. Once it is my turn, I think I'll be ready to go."
Lucas — he has played 11 minutes total in KU's four victories, scoring eight points and grabbing three rebounds — said his prime responsibility now, "is to play hard. I like to rebound. I'm really good at rebounding. That's something I can bring to the team. The minutes I'm getting ... it's really important to play hard, especially if you've been sitting awhile, just go out there and hustle because he (coach Bill Self) wants to see what you can do in those small amount of minutes before he gives you any more."
Lucas' main weakness right now is: "Finishing against length, which is perfect because we've got guys like Joel," Lucas said of going against 7-footer Embiid. "I got to work on it last year against Jeff (7-footer Withey). Also guarding. I'm able to play both the 4 and 5 because a lot of times these teams have a mobile 4. Sometimes I'll get matched up against a guy like Perry (Ellis, 6-8). His offensive skill set could be like a 3."
Self, whose team is loaded with depth in the frontcourt as well as the backcourt, said Lucas is definitely ready to contribute at this level.
"He's good. He's just a freshman. He has a bright future. I'm excited about his future," Self said. "It doesn't mean he can't play this year. He has to play better than some of the other guys in front of him. He doesn't need to get discouraged at all. There's a lot of guys who would love to be able to start a couple years at Kansas. He's one of those guys, no question."
For now, Lucas is trying to earn his own minutes and help players such as freshman Embiid progress at a rapid rate.
"It's unbelievable how quick he's developed. His potential is through the roof," Lucas said. "If he could get Jeff's timing, it'd be unbelievable (in terms of shot blocking). He (Embiid) is more athletic and quicker off the floor. Jeff was so patient, he wouldn't go for ball fakes. That's hard to find in somebody who likes to block shots."
Tough classes: Lucas, who was born in Tokyo and learned the Japanese language during his sixth- and seventh-grade years while living with his mom in the city of Fukui, is studying Japanese at KU.
"I'll probably do some kind of double-major in Japanese. I want to do something in business or communications, which is my focus," Lucas said. "I took two (classes) last year. I'll probably try to finish it up the next couple years. I learned it straight from (being in) Japan. Learning it here is a little bit different."
Matt Tait's December 2012 story on Lucas living in Japan is available at http://bit.ly/U7sfrf
The trip begins: KU's players and three charters full of fans who are Williams Fund members will depart for the Bahamas this afternoon. KU will meet Wake Forest in a first-round Battle 4 Atlantis game at 2:30 p.m., Central time, Thursday in Paradise Island, Bahamas. About 1,500 KU fans are expected to be in the stands for the opener in the 3,900-seat Imperial Arena, which is actually a ballroom/convention center.
This classifies as a business trip with a bit of time for fun.
"We had a parent email us and ask, hey, let us know when the kids' free time is so we can get with our kids, and I emailed them back, and I said, 'This is a business trip, there's no free time,'" Self said. '"You have the free time, not us.' We'll give them some time on Wednesday, and we'll give them some time on Sunday, but other than that and Tuesday night when we get there they can hang out and stuff, but we're not concerned about anything other than trying to win games on Thursday, Friday and Saturday and eat good Thursday night."
Maui: The field for the 2015 Maui Invitational was announced on Monday: KU, Indiana, St. John's, UCLA, UNLV, Vanderbilt, Wake Forest and Chaminade. Next year, KU will play in the Old Spice Tournament on Thanksgiving week in Orlando, Fla. The field will be announced sometime this week. KU has yet to choose a tourney for 2016. In 2017, KU returns to the Battle 4 Atlantis.
Recruiting: JaQuan Lyle, a 6-5 senior shooting guard from Huntington (W.Va.) Prep, plans to visit KU for the Kansas State game on Jan. 11, he told Rivals.com. Lyle is ranked No. 22 in the recruiting Class of 2014 by Rivals.com and is a good friend of KU signee Cliff Alexander.