Tuesday, November 26, 2013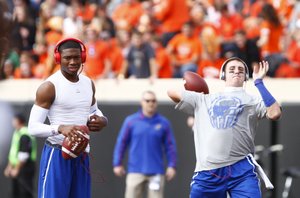 It's back to the drawing board for Kansas University's football team as it prepares for Saturday's 11 a.m. season finale against Kansas State at Memorial Stadium.
After starting junior quarterback Jake Heaps during the season's first nine games and true freshman Montell Cozart for the past two, KU coach Charlie Weis once again is keeping the identity of his starter a secret this week, as the Jayhawks (3-8 overall, 1-7 Big 12) look to end the season on a high note against the in-state rival Wildcats.
"I would not say one word," Weis said on Monday's Big 12 coaches teleconference. "I would not say who the quarterback (will be). Not a chance."
Both Heaps and Cozart played during last week's 34-0 loss at Iowa State, and although neither player could find a way to produce points, each sprinkled a few good moments into an otherwise miserable night.
Cozart ran for 44 yards on 12 carries, including a long of 21 yards that nearly went the distance. In the six games in which he has appeared, the Bishop Miege graduate has proven to be much more effective as a runner than a passer, both in terms of yardage totals and the impact he has on the offense even when he does not keep it and take off.
Heaps entered the Iowa State game with 5:56 to play in the third quarter and looked as accurate as he had been all season. His final numbers (7-of-19 passing for 72 yards) did not reflect that, however, because the Kansas wide receivers dropped half of Heaps' incompletions.
Saturday's setback against the Cyclones zapped a lot of the momentum gained from knocking off West Virginia a week earlier, but the Jayhawks believe finishing strong and upsetting the Wildcats, who entered the week as 17-point favorites, would be enough to paint the 2013 season as a step in the right direction. Because of that, Weis began looking to the Sunflower Showdown long before the final horn sounded in Ames, Iowa.
"You don't wait until after the game to start addressing what needs to be different," Weis said. "If you wait until the next day at the quarterback position, I think you waited a day too long. (So) during the (Iowa State) game, in the third quarter and the fourth quarter, I had conversations to address issues that happened in the game and how you go about fixing them going forward."
While that was the focus with the two guys who play the game's most important position late in the loss to ISU, Weis turned his attention to the entire team as soon as time ran out.
"Saturday night after the game, I ripped into them as bad as you can be ripped into," Weis said. "Sunday, we moved on to Kansas State."