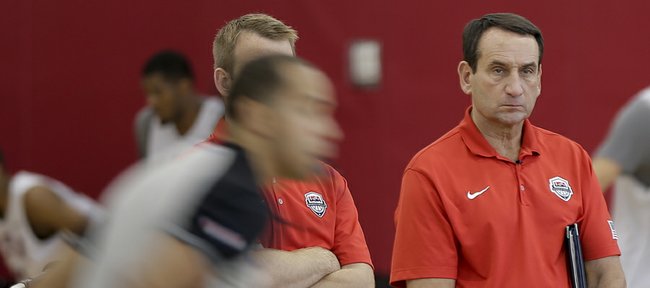 One thing Kansas University's Bill Self and Duke's Mike Krzyzewski did not discuss at this year's Champions Classic was the possibility of KU's 11th-year coach succeeding "Coach K" as head coach of the U.S. Olympic men's basketball team.
Though Self's name has been mentioned in media circles as replacement for the two-time gold-medal winning coach, he's not wasting any time stressing about the job or campaigning for it.
Gregg Popovich of the San Antonio Spurs, Doc Rivers of the Los Angeles Clippers, Tom Izzo of Michigan State and Jim Boeheim of Syracuse have also been mentioned in successor-speculation stories.
"Actually, I used to be on the Selection Committee for picking kids in the 21-and-under, 20-and-under and 19-and-under (USA Basketball) teams that travel," Self said on his Hawk Talk radio show. "I've never coached with USA Basketball. We planned on doing it a few times, but because of Tyler and Lauren's (children) schedule, it was never the right time to be gone in the summer.
"It's just not real. There are some guys named Popovich and Rivers and some others that would be, I'm sure, high on the list as possible replacement whenever he (Krzyzewski) decides not to do it. My understanding is he feels great and will do it one more time at least (2016). He has done a lot for our sport and USA Basketball. For anybody to logically think that (Self being named) is a possibility or realistic would be pie-in-the-sky-type thinking. Those jobs don't fall off trees," Self added.
Boeheim is in the Hall of Fame, while Self and Izzo, who have won national championships, are both considered locks for induction. Popovich and Rivers have been considered two of the top NBA coaches for some time now.
"Though it's flattering to hear things like that, it's something I don't put a lot of stock into because the reality of that happening is that it will not occur. My plate is full here. I'm just focused at what is going on at Kansas. It's flattering but not realistic either," Self said.
Tulsa 0-4: Former KU All-American Danny Manning's second Tulsa team is off to an 0-4 start. The Golden Hurricane have lost at home to Oral Roberts (74-68) and Wichita State (77-54) and at Missouri State (96-93) and most recently Saturday at Creighton (82-72).
Tulsa, which will compete in the upcoming Great Alaska Shootout, still must play at Oklahoma, TCU and Maryland in the nonconference.
The Tulsa World has pointed to free throws as a major problem. In the home losses to ORU and WSU, Tulsa hit 30 of 66 charities. Tulsa went 11 for 18 from the line at Creighton.
Former KU coach Larry Brown's second SMU team is 4-1. The Mustangs have beaten TCU on a neutral court, Rhode Island, Texas State and Arkansas Pine Bluff at home and lost at Arkansas.
Bahamas trip next: KU will next meet Wake Forest in a first-round Battle 4 Atlantis game at 2:30 p.m., Thursday, in Paradise Island, Bahamas. As far as the eight-team field ... Wake Forest is 5-0, Iowa 5-0, KU 4-0, Villanova 4-0, Xavier 4-0, USC 4-1, Tennessee 3-1 and UTEP 3-2. Other first round matchups: Nova vs. USC, Iowa vs. Xavier and Tennessee vs. UTEP. KU will leave for the Bahamas on Tuesday. News conferences will be held Wednesday with games Thursday, Friday and Saturday.
Scholarship talk: Self was asked on Hawk Talk how he plans his scholarship situation for next season when he doesn't know how many players will be leaving the program. So far, he's awarded the program's two available scholarships to Cliff Alexander, 6-8 from Chicago Curie, and Kelly Oubre, 6-7 from Findlay Prep in Henderson, Nevada.
The Jayhawks lose senior Tarik Black to graduation with Andrew Wiggins expected to be the top pick in the 2014 NBA Draft.
"It's kind of like, 'What's the percentage play?'" Self said. "I learned a while ago it's better to have one too many (players committed) than not enough. That sounds kind of weird. The thing is if you look at national stats across American, kids are transferring at alarming rates.
"The national averages are somebody is going to leave. You can't keep everybody happy. Then the averages (say) if the players are good enough, somebody you don't anticipate will probably leave for the NBA or whatever. I don't feel the least bit uncomfortable in signing or committing to one over to what it appears to be. I think when you get in the two to three range (over limit) that could create a problem. We could have one, two, maybe three more than it looks like on paper depending on how well guys play down the stretch."