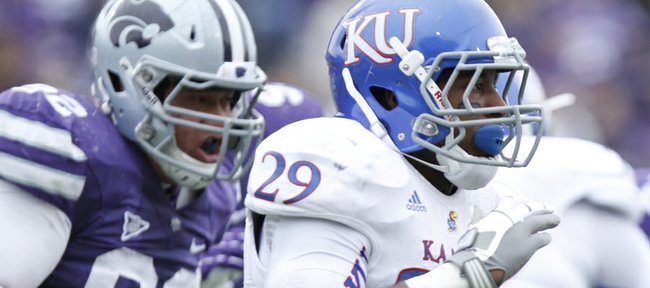 Minutes after suffering through a bone-chilling 34-0 loss at one-win Iowa State on Saturday, members of the Kansas University football team shifted their focus on to what comes next.
"This'll be an emotional blow for a day," KU coach Charlie Weis said after the Jayhawks' eighth loss of the year. "Because you know who we're playing next week."
That team is in-state rival Kansas State, and, for the first time since 1978, the Jayhawks will close out the regular season against the Wildcats at 11 a.m. Saturday at Memorial Stadium.
The matchup is one the Kansas players have been looking forward to for months.
"Definitely," senior center Gavin Howard said. "After watching film, we'll forget about (Iowa State). We've had K-State circled all season. We've had a running clock waiting for this game since the summer. This is the No. 1 game we want to win every single year, so there's no doubt we'll bounce back from this."
KU's prospects of pulling off its first victory over KSU since 2008 certainly looked a lot better before the team laid an egg at Iowa State. The Jayhawks' victory over West Virginia on Nov. 16 pumped life back into the program, and with a win at Iowa State, Kansas would have had all kinds of momentum heading into the Sunflower Showdown.
Instead, the Jayhawks (3-8, 1-7 Big 12) enter the week licking their wounds, and the Wildcats, who fell 41-31 to Oklahoma in their home finale, are set to show up in Lawrence as 16.5-point favorites with a 6-5 overall record, 4-4 in conference.
"This is a big game for us and a big game for the Kansas program," senior running back James Sims said. "A win like this could throw everything out the door. Whatever the record was, OK, we beat Kansas State, our rival, we got bragging rights for a whole year."
More than bragging rights, Sims said success Saturday would be beneficial to everyone associated with the future of Kansas football.
"It'll mean a lot to me, as a senior," Sims said. "And this whole senior class that's about to get ready to leave, as well as the underclassmen to have something to build on in the offseason. So we're just looking forward to preparing and getting ready to beat K-State."