Tuesday, November 19, 2013
Photo Gallery
KU basketball v. Iona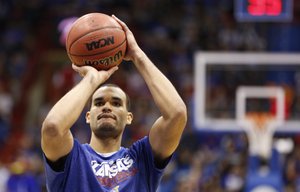 Images from Tuesday night's game between Kansas and Iona at Allen Fieldhouse.
Podcast episode
Bill Self says Joel Embiid and Perry Ellis were by far KU's best players in win over Iona
Podcast episode
Perry Ellis, Joel Embiid and Frank Mason share their thoughts on KU's 20-point win over Iona
Kansas 86, Iona 66
Kansas University freshman Brannen Greene was the only Jayhawk to not play in Tuesday's 86-66 victory over Iona in Allen Fieldhouse.
KU coach Bill Self was asked Greene's inactivity was injury related.
"Not really. He has had a minor injury that's been nagging him, (but) that was my decision," Self said of sitting the wing. "I love Brannen Greene, but he needs to be more responsible taking care of some responsibilities off the court. By no means is he in trouble or anything like that. We just need to make sure we are all on the same page," Self added.
• Frankamp solid first half: Freshman guard Conner Frankamp hit a three and had a steal in nine minutes the first half. He played one minute the final half.
"Conner was our best defender the first half. He did the best job on Armand (Sean, 14 points) when he was guarding him the first half," Self said. "I told him after the game I wish I'd played him the second half. I thought he was good the first half."
• Foul trouble: Senior power forward Tarik Black was in foul trouble for the third straight game. He had one point and a board in nine minutes.
"It's something we've got to study. We need him to be better," Self said. "He's thinking too much instead of playing. He needs to have some success. He knows he can do better than what he's done. We do too because he's practiced consistently pretty well since he's been here."
• CU women to have big crowd because of KU: The University of Colorado obviously wants a big crowd for today's 8:30 p.m., women's basketball game against Iowa. CU students must attend the game in order to claim their tickets for the CU-KU men's game on Dec. 7.
According to ESPN, CU students will enter through the southeast entrance of the Coors Events Center beginning at 7:30 p.m. Students will swipe their Buff OneCard and receive a wristband, which they must wear to the game. The wristband guarantees a ticket to the KU game. If a Buffs' student leaves the Events Center prior to the conclusion of the game, ESPN says, the wristband will be removed.
To land the CU-KU tickets, Colorado students must head to the court immediately following the women's game, where they redeem their wristband for a ticket.
The plan has received mixed reviews.
"It's an OK idea but a lot of my friends have an actual calc exam that night at 8. So now they can't get Kansas tickets? That's a load of bleep," one CU student wrote at allbuffs.com.
It remains to be seen how many KU fans from Denver and Western Kansas will attend the KU-CU game this season. For years, when CU was in the Big 12, KU fans accounted for more than half of the building.
However, this year, for the first-time ever, men's basketball tickets at the Coors Events Center are sold out for the 2013-2014 season (all 18 home games). Some individual game tickets for all games are available, except for KU, Arizona, UCLA and Oregon, which are sold out. Coors Center seats 11,064.
There have been reports of KU fans buying Buffs' season tickets just to get into the game.