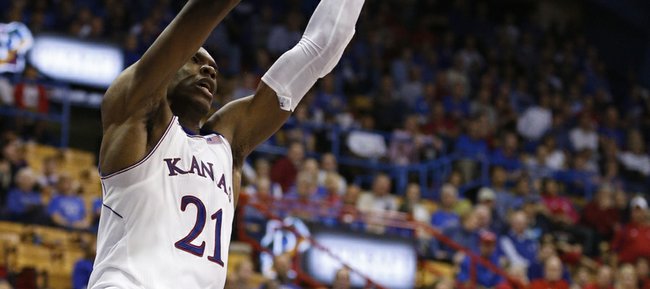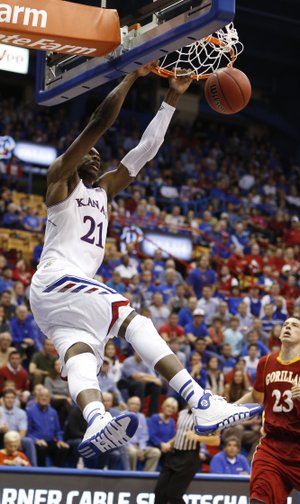 Legend has it Joel Embiid once killed a lion back in his homeland of Cameroon.
"He did it with his bare hands. He had to do it for his tribe," Kansas University junior point guard Naadir Tharpe said of his 7-foot freshman teammate, a slight smile creasing his face.
"It's the truth."
Or is it?
"Where he messed up with the story," senior center Tarik Black said of 250-pound Embiid insisting he came out on top in his battle of man versus beast, "is he told me he had to carry it back home. No human being can carry a lion. It's impossible."
To get to the bottom of the tall tale, the Journal-World approached gentle giant Embiid on Monday — the day before today's 7 p.m. home nonconference clash with Iona — with the question at hand: "Did you ever kill a lion?"
"That's a secret," Embiid said, busting out in laughter. "It might be true, though. I can't answer that right now."
Pressed for the truth, he stuck with his story: "I will talk about that later."
Embiid, who has emerged as KU's most entertaining follow on Twitter (@jojo_embiid), as evidenced by his most recent, "I think I love snow so I'm not going back to Africa when winter comes," and his, "I'm the best rapper under 20 in French, not English," has quickly become a favorite of his KU teammates.
Such as power forward Perry Ellis.
"Sometimes when Perry does a great move, I'll be like, 'Can you teach me this after practice?' He says, 'Yes, yeah,'" said Embiid, thankful for the tutoring sessions with the sophomore from Wichita.
And former University of Memphis player Black.
"Tarik Black is one of the few good people who ever been in my life!! Always giving me advice, telling me what to do, keeping me focused too," Embiid tweeted.
Embiid also is a favorite of the coaches, who have given the hard-working center homework assignments — like watching tape of last year's shot-blocker deluxe, Jeff Withey.
"Coach (Bill Self) tells me I have to have the mind-set to block every shot," said Embiid, who has one block in two games. "He will tell me I need to be a better rim protector. He (Self) gave me something to watch about his (Withey) ability from last year. Most of the time, he (Withey) wasn't going for the shot fake. He was just going when the ball was in the air. That's when he was jumping. I need to work on that."
Embiid is a work in progress, just having started playing basketball in 2011 in his native land.
"We miss that," Self said of Withey's presence in the lane on defense. "But I'm hopeful Joel can become a more efficient rim protector. I think he's got it in him to do so."
Embiid has been called a certain NBA lottery pick, sooner rather than later.
"He's got the best feet. He moves like a 6-footer with his feet," Self said. "He can do some things and move in a way that very few guys in the past have been able to move. The improvement Joel has seen in a short period of time has been significant. He's still young and green and doesn't really know what he's doing, but there is obviously a skill-set there that few 7-footers have."
Ellis, Wiggins honored: Ellis and Iowa State's Melvin Ejim on Monday were named Big 12 co-players of the week and Andrew Wiggins newcomer of the week. Ellis had 24 points and Wiggins 22 in KU's victory over Duke in Chicago.
Iona invades: KU (2-0) tonight meets Iona (1-1), a team that returns five of its top seven scorers from last year's Metro Atlantic Athletic Conference championship team. Iona defeated Wofford, 76-55, on Saturday in the Gaels' Hynes Center in New Rochelle, N.Y., after dropping its opener, 73-69, at Cleveland State. Leading scorer is Sean Armand, a 6-5 senior from Brooklyn, N.Y., who averages 18.0 points a game.
"This will be the first time we've played against a team that played predominantly zone," Self said, noting Iona will play 1-3-1 and 3-2 and a 2-3 matchup. "They play faster than anybody we've played so far. They play faster than Duke as far as wanting to shoot it quick. And they're small, so we'll be having bigs guard on the perimeter."
Cliff a monster: KU has signed No. 4-ranked Cliff Alexander (6-8, Chicago Curie) and No. 12 Kelly Oubre (6-7, Findlay Prep, Henderson Nevada) in recruiting.
Is Alexander one of the best big men Self has signed in his career?
"Yes, without a doubt," sais Self, who first started recruiting the Chicagoan in ninth grade.
"His ceiling is remarkably high. If I say he's a monster, then that'll be the headline: 'Alexander a monster.' I'll say he plays much more aggressively than what most 18-year-olds play. He really goes after the ball and attacks the basket very hard. He's got a chance to be really good.
"We got two guys, obviously top-10 players in their respective class, and that doesn't happen every year we get two guys like that."
Self said KU, which has filled its two-scholarship allotment, is still recruiting.
"We don't know exactly how our situation will play out (with players heading to pros), so we'll always be recruiting."