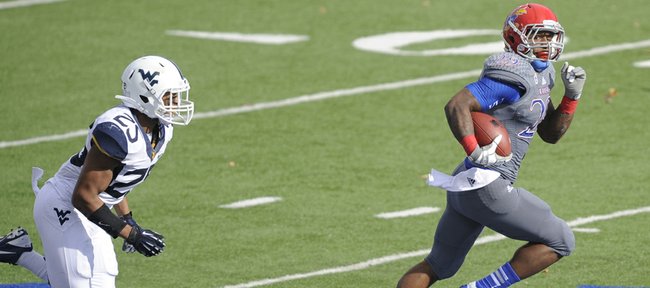 Photo Gallery
KU football v. West Virginia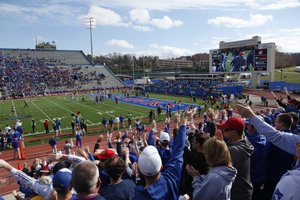 Images from Saturday's game between the Jayhawks and Mountaineers at Memorial Stadium.
Podcast episode
Charlie Weis post-game vs. West Virginia
KU 31, W. Va. 19
When the West Virginia Mountaineers woke up Saturday morning in Lawrence, they felt good about heading over to Memorial Stadium, beating Kansas University and getting one win closer to bowl-eligibility.
Coach Dana Holgorsen liked his team's chances even more when WVU opened the game with a touchdown drive and a seven-point advantage. However, between a monster day from Jayhawks senior running back James Sims and the failure of West Virginia to keep the good vibes flowing, the Mountaineers left that afternoon victims of a 31-19 loss and the knowledge that there will be no postseason for them.
"I really apologized to the 12 seniors in there, apologized for not getting to the 13th game," Holgorsen said. "We got beat on all three sides of the ball. We got outcoached, outplayed."
Kansas (3-7 overall, 1-6 Big 12), which snapped a 27-game Big 12 losing streak, scored 31 unanswered points before WVU (4-7, 2-6) tacked on a pair of touchdowns in the final five minutes. In Holgorsen's opinion, his team's effort just vanished after its hot start for some reason.
"I've warned them, this is different than the Big East," the coach said. "The days of just showing up and playing a very marginal level — whether it's effort, whether it's execution, whether it's coaching, whether it's talent or whatever it is — you can't show up and be average. I don't care who it is. Our team's good enough to where we can show up and play at a very high level and beat teams in the Big 12. Our team's not good enough to where we can show up and play average and beat anybody. That's obviously what happened today."
In particular, West Virginia's defense couldn't slow down Sims, who ran for a career high 211 yards on just 22 carries and scored three touchdowns. In the second quarter alone, Sims went 62 yards on one carry (a KU season-high at that point) and 68 yards on another, eclipsing the mark he just set.
WVU senior defensive lineman Shaq Rowell called Sims "phenomenal."
"I remember from last year that No. 29 was good," Rowell said. "He was the man with the ball today. You can't win a game when one guy rushes for over 200 yards."
Sims' marquee afternoon perplexed Holgorsen, whose team had allowed 174.1 yards on the ground entering the game. KU rushed for 315 on 54 carries, with freshman quarterback Montell Cozart contributing 60 and junior running back Brandon Bourbon adding 48 and a TD.
"We've stopped the run every week," the coach said. "It was very disappointing in the first half to not stop the run. We were anticipating Cozart, the quarterback. We thought he handled things good for a first-time starter and just being in there. We anticipated that. We kind of knew that was going to happen. We knew what their plan was going to be. The game is won and lost up front 90 percent of the time. Their O-line whipped us. We didn't tackle very good."
Though WVU benefited from a 104-yard rushing effort out of their running back named Sims, senior Charles, junior quarterback Paul Millard went 23-for-42, with two interceptions.
"We were moving the ball fine in the first half," Millard said. "We just could not finish our drives. In the second half, we got the ball back. That first interception (early in the third quarter, by KU sophomore linebacker Ben Goodman), the kid made a great play. It was a mistake by me, and we cannot afford mistakes like that."