Saturday, November 16, 2013
Photo Gallery
KU football v. West Virginia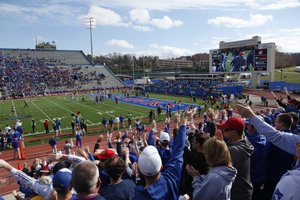 Images from Saturday's game between the Jayhawks and Mountaineers at Memorial Stadium.
Podcast episode
Charlie Weis post-game vs. West Virginia
KU 31, W. Va. 19
The scene on the Memorial Stadium turf following Saturday's 31-19 victory for Kansas University over West Virginia provided the kind of joy and excitement for which KU fans, coaches and players have been waiting a long time.
Strangers embraced, coaches smiled, players passed out gear to appreciative classmates and sounds of happiness filled the air as the south goal post came crashing down and was given the customary escort to Potter Lake at the base of Campanile Hill.
Inside the Kansas locker room following the Jayhawks' first victory over a Big 12 opponent in its last 28 tries, things were turned up a notch and the players were happy to share a few of the details.
"A big party," said fifth-year senior Kevin Young, who recorded one of KU's two sacks. "That's the best way I could put it."
"It was crazy," said freshman quarterback Montell Cozart. "Coach (Charlie) Weis was just yelling."
As is the case following most games, Weis was the last one to get to the locker room. After losses, he's greeted by silence and long faces. Saturday, it was something entirely different.
"They're all sitting there waiting on you and, when you come in there, they maul you pretty good," Weis said. "It was good.... My enjoyment comes from them. I enjoy watching them have fun."
Gatorade bath
Several KU players made sure to show their appreciation for Weis' efforts in snapping the losing skid by giving him a Gatorade bath as time expired. Asked what that meant to him, Weis remained his typically honest self.
"It means I'm soaking wet right now," he joked. "When you get water or Gatorade (dumped on you), especially after a long losing streak, you don't mind one bit."
Good company
In earning the victory on Saturday, Cozart became the eighth Kansas quarterback to win his first start in 17 total tries since 2000. He joined Zach Dyer (2001), Brian Luke (2004), Kerry Meier (2006), Todd Reesing (2007), Jordan Webb (2011), Dayne Crist (2012) and Jake Heaps (2013).
"He had a pretty nice day at the office," Weis said of Cozart. "I think Montell has been aggressive each week. He gave us a lot with his efforts today. He got us some big first downs. He has a lot of work to do, but that was a good effort for him this early in his career."
Heeney almost scores
Midway through the fourth quarter, with his Jayhawks leading 24-7, junior linebacker Ben Heeney picked off a Paul Millard pass at the West Virginia 29 yard line and returned it 28 yards to the one-inch line, covering the final five yards with the abandon of a cheetah stalking his prey in the desert.
Despite coming just inches away from a defensive TD, Weis said Heeney, a former standout running back at Hutchinson High, did not beg to be put in on offense to finish the job.
"I apologized (to him) for not challenging," Weis said. "Because, watching the replay, I thought he scored. But it was too late. I don't know if he did or didn't, but I would've challenged just to try to get him a touchdown. But, no. He didn't lobby. He was feeling pretty good about himself."
Instead of Heeney, junior running back Brandon Bourbon (48 yards on 12 carries) plowed in from a yard out to put KU up 31-7.
Pierson popped again
Junior Tony Pierson, who, once again, did not appear to be quite himself in the wake of missing time because of a concussion, was sandwiched between two defenders late in the game and stayed down on the turf for a couple of minutes before jogging off the field.
When asked about the hit after the game, Weis said Pierson reported that his head hurt after the blow and added that he was still in the game because West Virginia had begun to clog the middle.
"We hadn't shut down the game yet," Weis said. "He was out there because they were collapsing the inside and we were trying to run it to the outside."
This and that...
The Jayhawks won Saturday's opening coin toss for the fifth time this season and chose to defer their choice to the second half. West Virginia elected to receive the game's opening kickoff.... Saturday's victory was KU's first all-time against West Virginia.... Senior defensive tackle Keba Agostinho recorded the first blocked field goal of his career on a 42-yard attempt by WVU's Josh Lambert as time expired in the first half.... Agostinho's blocked field goal was the first for Kansas since Phillip Strozier in 2008.... Temperature at kickoff was 66 degrees, under overcast skies with winds of 30 mph out of the south.