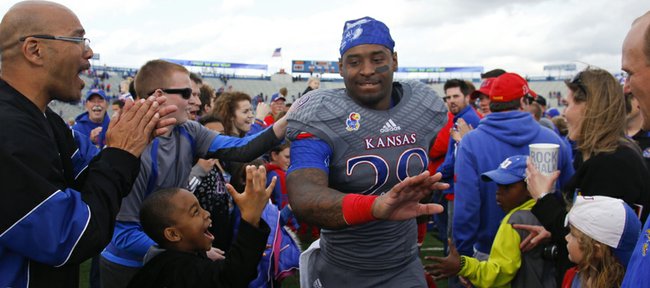 Photo Gallery
KU football v. West Virginia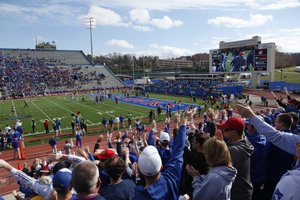 Images from Saturday's game between the Jayhawks and Mountaineers at Memorial Stadium.
Podcast episode
Charlie Weis post-game vs. West Virginia
KU 31, W. Va. 19
All season, as Kansas University's football team struggled to score points and hang in there with faster, more explosive Big 12 foes, coaches and fans alike racked their brains looking for some kind of a spark.
Saturday afternoon, senior running back James Sims served as the flint to freshman quarterback Montell Cozart's steel, and together the 1-2 punch set fire to the scoreboard in a 31-19 victory over West Virginia in front of a crowd of 30,089 fans at Memorial Stadium.
The 27-game Big 12 losing streak is over. The Rock Chalk Chant is back at Memorial Stadium. And, just as Kansas University football coach Charlie Weis insisted could happen, all seems right again with the KU football program.
"Let's start with the kids who have been here five years and gone through multiple coaches and everything with that," Weis said. "They're the ones that you feel best for. But I also feel good for all our students and fans that endured those losses."
The two groups came together following the victory over West Virginia (4-7, 2-6), with students and fans rushing the field and meeting the team near midfield to sing the alma mater and celebrate a day in which KU fell behind 7-0 and responded with 31 unanswered points to improve to 3-7 overall and 1-6 in Big 12 play.
Asked if what unfolded Saturday was the scene he envisioned when he started the tradition of singing with the fans following games — win or lose — KU's second-year head coach, who nearly teared up during his postgame television interview, flashed a look of satisfaction.
"Maybe not on the field," he joked. "But it was actually kind of nice it worked out that way. The students that were there got to celebrate with the players. I've got kids sticking phones in my face and everything like that, but … the student body, it's been awhile since they've been able to enjoy it, too. I'm happy for them as well."
For Cozart, the true freshman from nearby Bishop Miege High who had played some during the past four weeks but was making his first collegiate start, the whole day was basically one big blurry smile. His numbers were decent — 13 carries for 60 yards, 5-of-12 passing for 61 more. He graded himself a solid B, and his poise and command of the offense more closely resembled something you'd expect to see from a senior. After the game, however, when he was made available to the media for the first time this season, Cozart looked every bit the kid in the candy store, smiling the whole time while reminiscing about all of the good moments that led to him becoming 1-0 as a KU starter.
"As a kid, you see teams winning a big game and fans rushing the field," Cozart said. "For me to be a part of that for the first time, my first start, first win in the Big 12 Conference, I can't put that into words."
Asked for his reaction to the postgame celebration that ended with the south goal posts falling for the first time in years, Cozart flashed his signature smile and demonstrated just how focused he was on Saturday's game plan.
"It surprised me because I was out there shaking the West Virginia defense, and the next thing I know, I just see a whole crowd of fans coming at me," Cozart said of kneeling down to kill the clock in the final seconds. "It was a great moment, and there's more to come."
After spending weeks tweaking the depth chart, the offensive line and even the roles of his assistant coaches, Weis finally found the magic touch for the offense and then watched with pride as his Jayhawks ran for a season-high 315 yards and matched a season best with 31 points.
"We spread the hell out of 'em today," Weis said. "I figured everyone else in the league's doing it to us, why not do it to them?"
Cozart, the first true freshman to start at quarterback for KU since Adam Barmann in 2003, said the offense KU ran Saturday was similar to what Baylor has done this season in that it incorporated just a handful of core plays but could use multiple options off of each look.
"I don't think they were expecting us to play that style of game," Weis said.
Added Cozart: "It's something I'm used to. I did something like this back at Miege. ... When they put that in, coach (Ron) Powlus asked me how I felt about it, and I said, 'I love it.'"
Cozart was far from the only one to feel that way. Sims, the senior who has led KU in rushing for four straight seasons, finished with a career-high 211 yards rushing on 22 carries. He also added three touchdowns, including a 68-yard scamper with 28 seconds left in the half that turned a 10-7 KU lead into a 17-7 advantage and sent the Jayhawks to the locker room with a lift.
"James was ballin', man," Cozart said. "That's James Sims. He's been doing that. And then today, I just felt like he broke out. Every time we gave him the ball, it was positive yards."
Asked about his big run just before halftime, Sims said it was a simple play that was designed to get a big chunk of yardage and wound up going the distance. He credited the offensive line for dominating up front all day and credited technology for helping him reach the end zone untouched.
"It felt good just to be in the secondary," he said. "I looked up at the Jumbotron, and I didn't see anyone behind me."
Sims, who has 3,396 career rushing yards and needs 446 more in KU's final two games to pass June Henley as KU's all-time rusher, said individual achievements did not mean much to him right now. He's much more focused on living in the moment and basking in the joy of finally beating a Big 12 foe again. It has been three full years and four seasons since KU topped Colorado, 52-45, on Nov. 6, 2010, when Sims rumbled for four touchdowns as a true freshman in a comeback victory.
"I feel like this one is better," Sims said. "Because when we got on top, we stayed on top."
Added junior safety Cassius Sendish, who led KU with 11 tackles: "This is something that you dream about. We did something that the team hadn't done in a long time, and you could tell. You could really tell. That was the first time I've ever been on the field where it was actually stormed by the crowd. It was exhilarating."