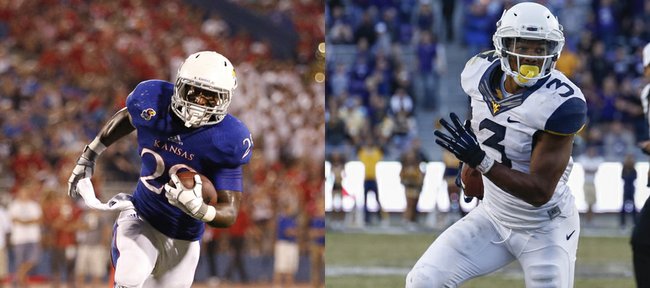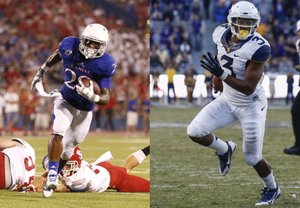 In 2010, as running back Charles Sims was red-shirting during his second season at the University of Houston, another young running back was on the brink of beginning one of the great careers in Kansas University history.
When the two backs with similar builds and the same last name square off inside Memorial Stadium — Charles as a fifth-year senior at West Virginia and James as the rock of the Kansas offense for the fourth consecutive season — the showdown will represent the collision of two players who traveled distinctly different paths to reach this point in their careers, when the guaranteed games begin to disappear quickly and the uncertainty of the future charges at them like a blitzing linebacker.
"It's crazy," said James Sims, who after today will have just two games remaining in a KU uniform. "Time flies by. I remember walking in here as a freshman in 2010, and now I'm about to graduate."
Wrapping up his career in the place he started it has afforded James Sims the opportunity to create a name for himself. Sure, KU fans have been down on the program during his days in town, but they always have claimed the team's top running back. His hard-charging style and unyielding desire to get every inch available, no matter how many defenders pushed up against him, have endeared him to KU fans, and it has been four years worth of hard work, sweat and dedication that have brought him to this point.
In the other huddle today stands a man of whom West Virginia fans are just as fond, even if he has only been in town for a few months.
Both players — each stands 6-foot tall, weighs around 200 pounds and would rather talk about any other player on the team before boasting about himself — are living proof that hard work can pay off regardless of whether you start your career in one spot and finish it in another or stay in the same place for the entire journey.
Ask West Virginia coach Dana Holgorsen to talk about Charles Sims, and the answers sound an awful lot like those given by Charlie Weis when talking about James Sims.
"He's been a great fit for us," said Holgorsen of his Sims, who, like his KU counterpart, was voted a captain for the 2013 season by his teammates. "He's such a good kid. He's a hard worker, and he's very talented. We really ask him to do a whole bunch. I challenge you to find someone who uses the backs the way we use him, whether it's in the run game or the pass game."
Before heading to West Virginia, Charles Sims already had made quite a name for himself. As a true freshman in 2009, the Houston native earned freshman-of-the-year honors in Conference USA after leading the Cougars with 698 yards and nine touchdowns and adding another 759 yards on 70 receptions.
Two states to the north, where James Sims was starting school at Kansas, the question was not how many yards or catches would the guy with the funny haircut haul in, rather, would he be needed right away?
With Kansas coming off back-to-back bowl appearances a couple of seasons prior to his arrival, James Sims entered KU's program as a Mark Mangino recruit who was re-recruited by the Turner Gill staff. With the coach he signed with gone and four established running backs already ahead of him on the depth chart, James Sims thought about quitting.
"Oh, yeah," the Irving, Texas, native said. "Almost every day. But my mom was telling me to stay here, 'Just stick it through and you'll be successful.'"
Four years and a few thousand hits later, his mother's words proved prophetic. Even though her son has won just eight games since coming to Kansas, he undoubtedly will go down as one of the best running backs ever to wear a Kansas uniform. And he belongs in that conversation.
Statistically, he ranks third on KU's all-time rushing list with 3,185 yards. On the toughness meter, it's worth noting that he has never missed a start because of injury and only missed four games in his career, one during his first ever game because of coach's decision and three because of a suspension in 2012. And, when judging him on his ability to keep fighting and holding his head high despite KU's permanent place in the Big 12 cellar during his career, no one has handled all of the losing better than James Sims, a player who refuses to let KU's win-loss record define him.
All of that goes back to those conversations with his mother, Mary, who always instilled in him that he could overcome anything, even not playing.
"Once the (2010) season hit and I knew I was playing, then everything else was brushed off because, obviously, I'm doing what I love," James Sims said. "Once I started playing, everything was good."
And it has been good ever since, with James Sims on pace to lead the Jayhawks in rushing for a fourth consecutive season, much the way Charles Sims led Houston during his three seasons there and now leads West Virginia with two games to play.
"I don't know him," said James, who added that there was no known relation between the two backs. "I just know he's an explosive player, he makes big plays, and he helps them out a lot, running the ball and catching the ball out of the backfield. He's a big (weapon) for them, and they use him a lot. He's a good running back."
Hmm … sound familiar?