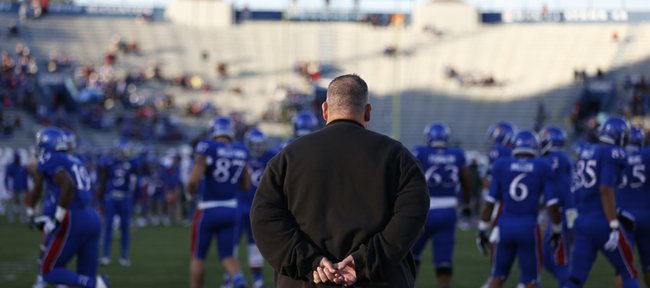 Almost as quickly as the leaves around Lawrence changed from green to red, the Kansas University football team saw its 2-1 start and hopes for a winning season turn into a 2-7 struggle courtesy of six consecutive losses to Big 12 powers.
With three games remaining in 2013, and qualifying for a bowl game no longer in the picture, KU coach Charlie Weis this week is implementing a few changes that he hopes will alter KU's path and help the Jayhawks finish the season on a winning note.
"Routines can be good and routines can be bad," Weis said earlier this week. "We are trying any little thing that you could use just to try to do something different."
That's not to say Weis has not been trying all season. He's tried everything from rearranging the depth chart on a semi-regular basis to putting players into new positions, moving freshmen into key roles and opening up his offensive game plans to input from the coaching staff. Some efforts produced positive results and others only provided momentary relief from the drain and pain of losing.
This week, Weis reworked the structure of KU's practices. Instead of interweaving offense, defense and special teams drills on Tuesday, the Jayhawks focused entirely on first- and second-down offense and defense, leaving special teams out the equation entirely.
"One of the reasons is (when) you go to the special teams portion of practice, there's a lot of guys involved in that and some guys are not involved at all," Weis said.
KU then mixed in extended time on Wednesday working on the core special teams units.
"I think there's been a lot of good stuff that goes on during the week," Weis said. "What we have to do is a better job of carrying over the classroom to the field and from the practice field to the game field."
The rewrite of Tuesday and Wednesday's practice schedule may seem small, and, more to the point, may not actually change the outcomes. But the players don't mind. And, like their coach, they're at the point where they'll try anything that might help.
"Coach is getting everyone up and ready to go," senior running back James Sims said. "He's putting everything he has into this week, picking the tempo up and making sure everyone is not so down and ready to bounce back and finish these three games strong."
Weis wouldn't have it any other way.
"When you lose and you accept it, that's never a good thing," he said. "I think that anyone who's driven, when things don't go well, you've got two ways to handle it. One way (is to) say, 'Oh well.' And the other way is you try to find another way to do it. I'm always looking for that other way. I don't know that 'Oh well' philosophy very well. That doesn't fit my mentality."
The Jayhawks host West Virginia at 11 a.m. Saturday in Memorial Stadium.