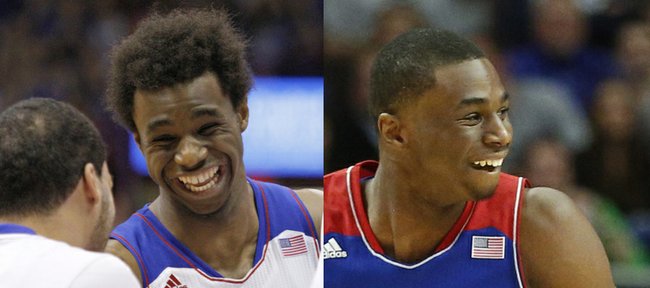 Kansas University freshman guard Andrew Wiggins had his shaggy Afro clipped before Tuesday's Champions Classic battle against Duke.
It's made inquiring minds wonder about the 6-foot-8 freshman's motivation for sitting in the barber chair prior to such a big game.
"Maybe all of the above," KU coach Bill Self joked Wednesday on his Hawk Talk radio show when asked if Wiggins shed his hair because (A) it was such a big game, (B) the coach suggested it or (C) Wiggins' mom suggested it.
"He looks good," Self added of Wiggins, who erupted for 22 points including four big ones down the stretch of KU's 94-83 victory over the Blue Devils at the United Center in Chicago.
"I think it's fine either way. He's always thought he looks like he is really, really young with his hair cut. With his hair, he thought he looked at least six, eight months older. So that's the reason he wanted to grow his hair out, because it makes him look older."
Wiggins is 18.
"I (initially) told him I think he should keep his hair, with the thinking he'll never do what the coach wants him to do, so he'd want to cut it," Self stated. "Maybe I shouldn't have told him that, because he said, 'OK, coach, if you think I need to keep it.'
"There was some consultation basically (before Chicago trip): 'Are you sure you want to do this (leave it long)? You are going to cut it over Christmas. Why don't you get it cut now if you are going to cut it anyway?'"
Self said when Wiggins arrived for a team meal with short hair ... "I'm serious. I didn't recognize him at all. I said, 'Who is that? That's a good-looking kid.'
'"That's Andrew,'" Self was told. "Since he played pretty well, especially down the stretch, I think he's probably OK with it."
Wiggins hit a step-back jumper that stretched KU's lead to 85-81 with 1:30 left in the thriller vs. Duke. After a Perry Ellis steal and pitch ahead, Wiggins downed a dunk 14 seconds later to make it 87-81.
"That right there kind of showed a lot of what Andrew is made of," Self said. "The shot he made was a hard shot, but it is his shot. Perry made the play definitely. Andrew had a great finish and Jabari (Parker) had his fifth foul.
"The thing I like the most," Self went on, "is the excitement level of our kids after he (Wiggins) made the play (dunk). Those kids had fun last night. Sometimes when you are young and don't really know anything, you put yourself in a situation you act cool or act like the stage isn't too big. The kids did that a little bit, but when the game was on the line, there were some happy kids out there playing. It was fun to watch. I love to see them play with more of their personality each and every game as opposed to being this stoic-type figure. I thought it was good they showed that."
Late to bed, early to rise: KU's players didn't get to sleep until between 5 and 5:30 a.m., Wednesday. The return charter flight from Chicago was airborne two hours after scheduled departure time.
"There was some kind of communication error between our bus and TSA (Transportation Security Administration) officials and so we got to the airport (from United Center) and one of the buses had to return to the arena," said KU associate AD Jim Marchiony. "Everybody had to get re-screened. I don't know all the details. We had gotten screened at the arena before we got on the bus. It's why we had to go back. The TSA official was at the arena. We got re-screened and the TSA official went back with us to the airport. We got on the bus and took off a little before 3."
"Everything is good. It was a short night as everybody on our trip found out how important TSA is at the airport," Self said of the travel delays on Hawk Talk.
Fab freshmen: Eighty NBA scouts were on hand for Tuesday's doubleheader that included Michigan State topping Kentucky, 78-74.
They came mainly to see freshmen.
Kentucky freshman Julius Randle had 27 points off 9-of-14 shooting (9 of 15 free throws) with 13 rebounds and eight turnovers in UK's loss.
Duke frosh Jabari Parker had 27 points and nine rebounds. KU's Wiggins had 22 points and eight rebounds; Wayne Selden 15 points, six rebounds and four assists; Frank Mason 15 points, no turnovers; Joel Embiid five assists, seven rebounds, two points; Brannen Greene, five points.
"I talked to several NBA guys today," Self said Wednesday. "I didn't see much of the first game. The second game was a great game. I didn't think it was the most artistic. They (NBA scouts) were raving of the quality of the players and the games this early in the season. It made me feel pretty good, because I know our guys stuck it out and performed pretty well. We haven't been performing consistently great at all. We did get excited to play. It will be a teaching moment to know if we are geeked up and energized what this team can potentially do if everybody is on the same page. It was a great starting point."
KU will next meet Iona at 7 p.m., Tuesday, in Allen Fieldhouse.