Photo Gallery
Kansas basketball v. Duke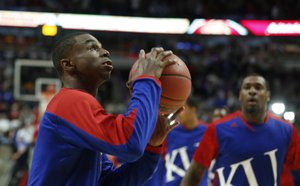 Images from the Champions Classic matchup between the Jayhawks and Blue Devils at the United Center in Chicago.
Document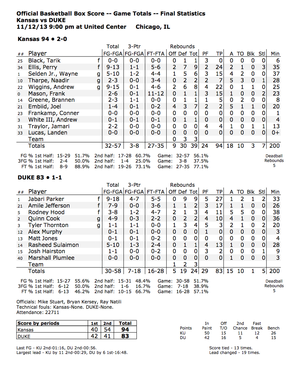 Podcast episode
Bill Self postgame interview vs. Duke
Podcast episode
Perry Ellis and Andrew Wiggins postgame interviews vs. Duke
Chicago — Kansas University has one possible McDonald's All-American in the fold — with three others to announce their college choices on Friday — as the weeklong early signing period for high school basketball players begins today.
Kelly Oubre, a 6-foot-7, 200-pound senior shooting guard from Findlay Prep in Henderson, Nev., orally committed to KU on Oct. 8. Oubre, Rivals.com's No. 12-rated player in the recruiting Class of 2014, chose KU over Kentucky and Florida.
Oubre — who was born and raised in New Orleans, before moving to Richmond, Texas, with his dad after Hurricane Katrina hit when he was in fourth grade — is off to a great start his senior season at the Nevada prep school.
He has averaged 23.0 points and 7.4 rebounds a game for Findlay Prep (5-0) with single-game highs of 29 points and 12 boards thus far this season.
"S/O to the Kansas fam tomorrow taking on Duke in Chi-Town, my savages ready to eat greedy !!! #RockChalk," Oubre tweeted on Monday.
KU will announce Oubre's signing upon receipt of his letter of intent.
Kansas is also in the running for three players who will announce their decisions on Friday. They are No. 1 Jahlil Okafor, 6-10 from Chicago's Whitney Young High; No. 4 Cliff Alexander, 6-8 from Chicago's Curie High; and No. 5 Tyus Jones, 6-1 from Apple Valley (Minn.) High. Jones and Okafor have said all along they will be choosing the same school. It's believed they are down to KU and Duke. Alexander has a final four of KU, Illinois, Memphis and DePaul. His girlfriend attends KU.
KU, by the way, officially has one scholarship to award in recruiting. Tarik Black is the only senior scholarship player on the team. However, freshman Andrew Wiggins is a certain one-and-done to the NBA. Also, freshmen Joel Embiid and Wayne Selden are possible one-and-dones, and sophomore Perry Ellis is considered a possible early exit after this season. There's also always the possibility of transfers opening up scholarships.
Three Jayhawks on list: KU's Andrew Wiggins, Wayne Selden and Joel Embiid have been named to the Wooden Award preseason top 50 list, the Los Angeles Athletic Club announced Tuesday.
Pizza is delicious here: Chicago is known for its pizza. This raises the question ... deep dish pie or thin crust?
"Eh ... deep dish," said KU sophomore Jamari Traylor, a former Chicago Julian High player whose long pause suggests he likes both kinds of pizza.
"You are in Chicago, you have to go deep dish, right?" said KU coach Bill Self, who is from Oklahoma, but coached three seasons at the University of Illinois.
K's kind of town: Duke coach Mike Krzyzewski is a graduate of Chicago's Weber High, which closed in 1999 because of declining enrollment.
"I love Chicago. It's my hometown," Krzyzewski said. "I have a lot of friends and relatives (there). Chicago is the second-biggest Polish city in the world population-wise — Warsaw and Chicago. Think of the ticket requests I have."
Tourney continues: Self is glad the Champions Classic has been renewed another three years, with KU playing Kentucky next year in Indianapolis.
"It's a great deal for all four teams. I know it is for us," Self said. "It's a marquee doubleheader to tip off every season. I don't know where else you could go and have four of the top five teams in the country all playing the second game of the season together. It's good for everybody."
Naadir Tharpe on the significance of playing Duke in such a big game: "This is going to get us prepared for when the season goes longer — the Big 12, Big 12 tournament, later on in the season. Every play matters. You can't take any plays off."