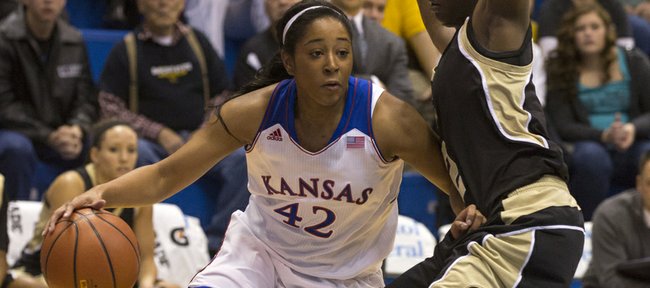 Coach Bonnie Henrickson's shot-selection rules don't apply to every Kansas University women's basketball player.
During the Jayhawks' season-opening win against Oral Roberts on Sunday, the 10th-year KU coach told her players they shouldn't fall in love with the open three-pointers and long jumpers their defenders coaxed them into shooting.
Soon after, Henrickson saw junior guard Natalie Knight shot-fake and put the ball on the floor.
"You can shoot it," the coach clarified. "You can always shoot it."
Henrickson has been urging Knight, a 5-foot-7 junior from Olathe, to assert herself throughout preseason practices and the team's exhibition victories. After scoring 12 points on 4-for-8 shooting in KU's debut, Knight will keep hearing the same message from her coach if things remain the same tonight at Allen Fieldhouse — tipoff at 7 — against SIU-Edwardsville.
"Her light's always gonna be bright green," Henrickson said. "There's no yellow at all. It never gets light green. It's bright green."
Sounds like a shooter's dream. Knight, who has made 35 percent of her career three-point tries, made 29 from downtown as a freshman and 22 as a sophomore (in 19 games). She missed all three shots she took from behind the arc Sunday.
Of course, Henrickson likes much more about Knight's game than her shooting ability.
"She doesn't exceed her speed limit," the coach said. "She doesn't play 100 miles per hour, but she gets her head up, she sees angles."
KU (1-0) received double-doubles from both junior forward Chelsea Gardner and junior guard Asia Boyd in its season debut. Henrickson praised Boyd for the way she rebounded in traffic, got out in transition and drew enough fouls to go 8-for-12 at the free-throw line.
But Henrickson had plenty of critiques after the 22-point win as well. The Jayhawks irked their coach at one juncture with their play directly following a timeout. They settled for three straight pull-up jumpers and turned the ball over twice.
"We've gotta be a team that comes out of a timeout and looks like we can play differently," Henrickson said. "We fell in love with the jump shot, and then we had no offensive rebounds."
In the home victory, Kansas finished with 12 offensive boards on its 24 missed field goals and seven missed free throws against ORU.
Tonight's KU opponent, SIUE (0-1) opened its season with a 59-48 loss at Missouri on Sunday.
The Jayhawks last played the Cougars in 2010, and won, 91-52, at Allen Fieldhouse, where they are 115-49 under Henrickson.