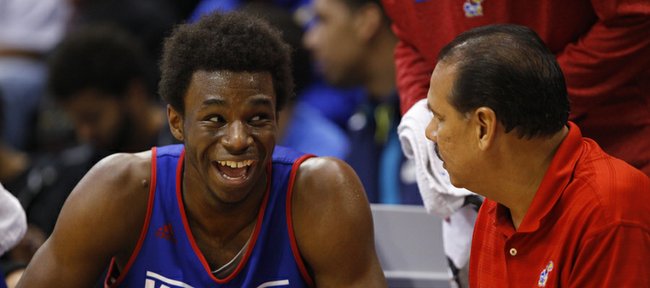 Kansas University freshman Andrew Wiggins on Tuesday will play his second game in the United Center, home of the NBA's Chicago Bulls.
The 6-foot-8 guard from Canada erupted for 19 points off 6-of-10 shooting in the East team's 110-99 loss to the West in the 2013 McDonald's All-America Game last April 3 in the Windy City.
"It was good. It's a big place. It can hold a lot of people. It was fun to play in. The gym was cool," said Wiggins, who will lead the Jayhawks against Jabari Parker-led Duke approximately 9 p.m. Tuesday in the NBA arena (capacity 20,917) in which Wiggins and fellow freshman phenom Parker figure to visit numerous times as pros the next 15 years or so.
Parker — the No. 4-rated player in the recruiting Class of 2013 by Rivals.com — scored 10 points and grabbed eight rebounds for the winning West squad in the McDonald's game. KU freshman Wayne Selden also performed in the contest, scoring 13 points off 5-of-7 shooting as a teammate of Wiggins on the East.
"He is very diverse. He can do a lot of different things," Wiggins, the No. 1-rated player in the Class of 2013, said of Parker, a 6-8, 235-pounder out of Chicago's Simeon High. "He can score, dribble, pass. He's an elite player. It's always good going against players when you know they are good.
"I'm excited. Duke is a legendary team with a legendary coach. I'm looking forward to it. It should be a good match-up," he added, referring to KU vs. Duke, not Wiggins vs. Parker.
"He's a good player. He can shoot the ball. He's pretty skilled. He's good," KU's Selden said, chiming in on Parker, who also had 16 points in the East team's 102-98 victory over Wiggins' and Selden's West squad in the 2013 Jordan Brand Classic last April in New York.
KU freshman center Joel Embiid scored four points with five blocks and seven boards in that contest. Embiid was a teammate of both Parker and Duke freshman guard Matt Jones (6-4, DeSoto, Texas), who had 14. Jones had four for the West in the McDonald's game.
"I know Jabari and Matt Jones. I know them well," Embiid said. "Jabari is one of the best players coming out of high school in my class last year. He's really good."
KU third-year sophomore Jamari Traylor, who attended Chicago's Julian High before moving on to IMG Academies in Florida, played against Parker, "one time in high school. I was a junior, and he was a freshman. He was always a good player, a lot of potential," added Traylor, who expects to guard Parker some Tuesday.
If recent practices are any indication, Wiggins and the rest of KU's freshmen are looking forward to the match-up in the Champions Classic. Michigan State plays Kentucky in the opener at 6:30 p.m.
"All I've seen is guys going at it ... Wiggins getting on the floor, everybody showing a different kind of mind-set," junior guard Naadir Tharpe said. "I think guys are starting to understand how important this game is going to be."
Wiggins apparently has come a long way in a short time. In one of KU's exhibition games, he elected to bend at the waist to pick up a loose ball rather than hit the deck.
"I feel like guys ... I wouldn't say (have been) trying to be cool, but not really understanding what it really is here, understanding the people that came here, the people that played here," Tharpe said of KU tradition that includes diving for loose balls. "You've got to show more than just going out there and shooting some hoops.
"At the beginning of the year, I felt he (Wiggins) was much more laid-back. He's starting to understand he's going to have to start doing more, start showing more. I feel everybody (nationally) is going to be against him. We are on his side. He has to prove to the world he is the best player."
All of KU's players will want to show well against Duke, KU coach Bill Self said.
"I would say Andrew is thinking about Duke, but he's also thinking about Jabari and (Rodney) Hood," Self said. "I bet they (Blue Devils) are thinking about Kansas, but also thinking about Wiggins and Selden. There's probably a lot of that going on, a little bit of a young personal rivalry, which doesn't mean much, but it's natural to think like that."
Self said "it's a different deal" in playing a team like Duke than KU's opening foe, Louisiana at Monroe.
"When you refer to certain players from certain teams you don't ever get to watch on TV, you refer to them as numbers. We're not going to refer to Duke's guys as numbers. We're going to refer to them as names. All our guys will definitely know who they are," Self said.
The players may know each other from high school, but this is much different from a game on the prep level.
"I told 'em this is not going to be anything like playing in the McDonald's game, the Jordan game, or any high school championship you played in,'" Tharpe said. "This is much more bigger than that. It's much bigger to the school than anything."
Recruiting: Cliff Alexander, a 6-8 senior forward from Chicago Curie High, attended KU's women's game against Oral Roberts on Sunday. He will sign with KU, Illinois, Memphis or DePaul on Friday on ESPNU. Alexander's girlfriend, Caelynn Manning-Allen, is a KU freshman forward from Chicago Curie High. Wednesday is the first day of the early signing period.