Sunday, November 10, 2013
Document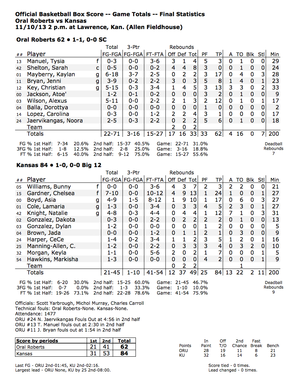 It was a joke and the truth, all at the same time.
Before starting her postgame news conference, Kansas University coach Bonnie Henrickson turned to reporters and said what most of them were already thinking: "You guys like that free-throw contest?"
The KU women certainly won't complain, not after an 84-62 victory over Oral Roberts on Sunday that included a school-record 54 free-throw attempts and 41 free throws made.
Still, it was the second basketball opener in three days at Allen Fieldhouse that had its flow sucked away by an officiating crew's fixation on the new hand-check rules passed down by the NCAA.
On Friday, the KU men's basketball team combined with Louisiana at Monroe for 58 fouls and 72 free throws in an 80-63 Jayhawks' victory. The numbers were nearly identical for the KU women Sunday, as they combined with ORU for 58 fouls and 81 free throws.
Though the Jayhawks smashed the previous free-throw records, Henrickson actually believed her team had more opportunity to draw fouls.
"It surprised me that the number's that high," Henrickson said, "because I didn't think we drove it as soon in the game as I thought we needed to."
KU's 54 free-throw attempts were the most in school history, with the previous record of 50 set in 2000 against Mississippi Valley State. ORU, meanwhile, had never allowed more than 46 free throws to an opponent before Sunday's whistle-fest.
The Jayhawks' 41 free throws made also easily beat the previous best of 34 made against Penn State on March 19, 1994. ORU had never allowed more than 35 in its history, while KU's season high last season for free throws made was 23.
"I think we can be a lot more aggressive, but I think we started to be more aggressive down the stretch," KU guard Natalie Knight said. "That's what got us those free throws."
The Jayhawks (1-0) actually took control of the game during a relatively foul-shot-free period after intermission.
KU forward Chelsea Gardner scored 12 of KU's points in a half-opening 19-5 run that turned a 10-point lead into a 50-26 advantage. The biggest difference was her team's willingness to find her, as the junior had five layups during the seven-minute stretch, four of those coming off assists.
"We ran a couple of sets for her, but we always know that if we get her the ball, we're going to get easy points and easy shots," Knight said. "That's always key for us."
Gardner led KU with 24 points on 7-for-10 shooting with 13 rebounds in 27 minutes. Many of her points came from lobs over the top, since ORU unsuccessfully tried to front her in the post.
"You've got to give credit to Chelsea for getting open," Knight said.
KU was able to pull away after a sloppy first half from both teams.
The Jayhawks led 31-21 at the break despite making just six first-half field goals (6-for-20) with 14 turnovers. The free-throw line saved KU. Kansas made 19 of 26 freebies before the half.
Knight was the steadying force for KU in her first regular-season game since suffering a knee injury on Jan. 30. The junior guard scored 12 points on 4-for-8 shooting with seven assists, three steals and just one turnover.
"She's had the best week of practice," Henrickson said, "and separated herself quite a bit this week."
Asia Boyd added career-highs in points (17) and steals (three) while also tying her career-best in rebounds (10).
KU will play host to SIU-Edwardsville at 7 p.m. Wednesday.