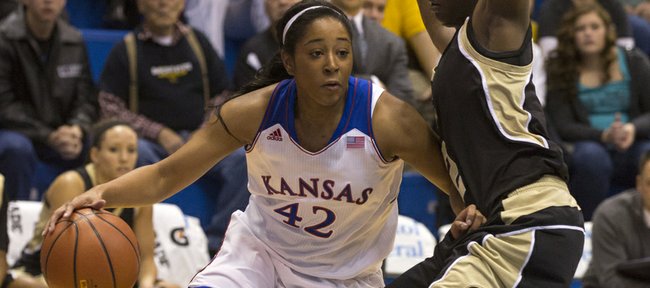 Natalie Knight has accomplished her goal.
After tearing the anterior cruciate ligament in her right knee on Jan. 30, the Kansas University junior guard recovered in time to rejoin the starting lineup for the Jayhawks' regular-season opener — today's 2 p.m. game against Oral Roberts at Allen Fieldhouse.
"From a knee standpoint, I feel great right now," Knight said. "I'm just looking forward to the rest of the season and ready to get started."
After seeing star players Angel Goodrich (twice), Carolyn Davis and Danielle McCray suffer ACL injuries in the past, KU coach Bonnie Henrickson says Knight is the latest Jayhawk to handle the difficult process well.
"You know those kids have bad days, but, boy, they just have the sense of maturity about them to not suck the life out of everybody else, and that's a really hard thing to do," Henrickson said. "Emotionally, their teammates are so invested in them, it's upsetting to watch them struggle.
"She brought energy for everybody else like Angel and Carolyn did when they were hurt."
In KU's two exhibition games, Knight averaged 10 points while taking just 11 combined field goals.
Henrickson says Knight has "as bright a green light" as anyone in the program offensively, and she's just one of many players the coach believes could stand to be more assertive.
The Jayhawks' stagnant offense was one reason they couldn't pull away farther in a 61-53 exhibition victory over Division II Emporia State on Nov. 3.
"It seems like most of our possessions have been, '5, 4, 3, 2, 1' possessions," Knight said. "I just think if we can be more aggressive earlier in the offense, it'll help us a lot."
Henrickson has worked with her team in practice recently on reversing the ball more to avoid having the ball stick on one side. She also saw instances on tape where her team lacked focus and failed to run plays correctly.
"We have a tendency to make a move we want to make," Henrickson said, "and not based on reading a defense and taking what the defense gives you."
Henrickson also wants to get more from junior starting forward Chelsea Gardner, who has racked up the whistles in KU's exhibition games.
"You'd like to sub her for fatigue or a match-up maybe, but not because she's in massive foul trouble," Henrickson said. "Then, we really get ourselves out of sorts."
Oral Roberts, which finished 19-13 a year ago, returns just three players from 2013-14. One of them, Bernadett Balla, is out until December because of a broken foot.
That means the Golden Eagles, who opened their season Friday with an 89-68 home victory over NAIA school University of Science and Arts of Oklahoma, will rely heavily on their 11 newcomers.
The two returning players — Christian Key and Sarah Shelton — caught Henrickson's eye during her early film sessions. Key went 5-for-7 from three in ORU's opener, while the 6-foot-3 Shelton had a double-double, with 14 points and 16 rebounds.
One other note: ORU second-year coach Misti Cussen (formerly Chennault) played 62 games for the KU women's basketball team from 1989-91 before transferring to Southern Nazarene.