Photo Gallery
KU shrines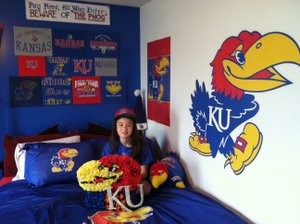 Some Kansas University fans wear their Jayhawk pride on their walls. Here's a peek at a few of Lawrence's best "KU rooms" plus photos other fans — from in town to out of state — sent us to show how they display their team spirit.
At one time, you might've said Pat Sullivan's basement was "decorated" with Kansas University memorabilia. But in the six years since he moved into his west Lawrence home, things have snowballed beyond decoration.
Way beyond.
"Now," Sullivan said, "it's more of a jigsaw puzzle."
Starting near the top of the stairs, ticket stubs, framed T-shirts, vintage programs, photographs, newspaper collages, signed footballs and basketballs, foam fingers, pennants and more cover nearly every square foot of the recreation room, bar and even an adjoining bathroom.
Sullivan is one of those KU fans who wears his Jayhawk pride on his walls — and he's far from the only one. The Journal-World last week visited Sullivan's and two other Lawrence fans' "KU rooms" and received photos from more than a dozen others.
Here's a peek inside three Lawrence homes. See more pictures from readers in a photo gallery at ljworld.com.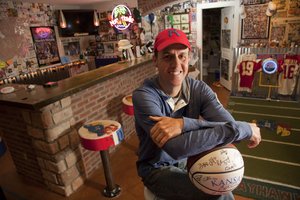 The 'Jigsaw Puzzle'
OK, it would be unfair to say all of Sullivan's KU pride is on his walls. He has Jayhawk tattoos, and his family dog is named Phog Allen Fieldhouse.
But back to the room.
For one, Sullivan said, he's a fan of all things KU, not just basketball. He has photos of track star Jim Ryun, plenty of football memorabilia and even a trumpet in a case autographed by the entire KU Pep Band.
Other highlights:
• A framed photograph Sullivan took of a stuffed Jayhawk sitting under the basket in an empty Cameron Indoor Stadium, home of the Duke University Blue Devils. (Sneaky, sneaky!)
• A putting green painted like the KU football field.
• An "Allen Fieldhouse West: The Streak" wall mural listing KU v. Kansas State basketball scores back to 1984. (It's in the bathroom, just left of the toilet.)
• Bar stools made from logs and decorated with vintage Jayhawk mascots.
• Cutout heads of the 2008 national championship basketball team, plus Dick Vitale and Max Falkenstien.
• 20-some collages Sullivan makes at the end of each basketball season with newspaper clippings he's saved throughout.
• Tickets from all the football and basketball games Sullivan's been to, each scrawled with notes such as who he went with, final scores and game-changing plays.
"I'm building a story down here," Sullivan said. "There's superstition wrapped into that. I don't throw anything away that's crimson and blue ... I'll just find a way to artfully display it in my basement."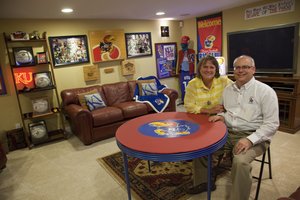 The Memories
For Christmas this year, Beth Kelley ordered her husband, Marshall Kelley, a basketball signed by the 2013-14 KU men's team.
But darn the credit card company — they went and called Marshall to verify the charge, ruining the surprise. Hence, the Kelleys' newest piece of KU memorabilia was added to their basement rec room a little early.
Other highlights:
• The official Hallmark poster for the 1984 Olympics, featuring a gymnast in an inverted iron cross on the rings. That would be Marshall, who went to KU on a gymnastics scholarship and posed for the photo artists used to create the poster. (His KU letterman's jacket is on a stand nearby.)
• Pieces of Allen Fieldhouse basketball floors dating back to 1955.
• A signed No. 14 Tyrel Reed jersey that Reed wore in the Rock Chalk Roundball Classic, a scrimmage of former KU stars that benefits families battling cancer. Reed, a model player, is Beth's all-time favorite. "I just thought he was magnificent," she said.
• A folding chair from a suite at Memorial Stadium. No, it wasn't stolen — the Kelleys' son assembled it from pieces of multiple broken chairs that had been thrown away.
Longtime season ticket holders, the Kelleys love the memories invoked by the KU items in their basement.
"You come down here feeling the energy of KU basketball," Marshall said, "and the history and all the games we've seen."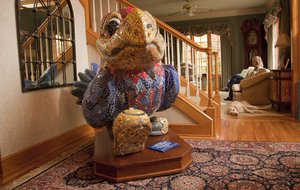 The 400-Pound Jayhawk in the Room
Michael Zabel and his wife, Debbie, won "Chip Off the Old Hawk" at a charity auction after the 2003 Jayhawks on Parade project. The oversize Jayhawk, covered in mosaic tiles, didn't weather being outdoors well so the Zabels eventually brought it in the house, where it now greets visitors inside the front door.
At his wife's request, most of Michael Zabel's other KU memorabilia stays in designated rooms.
"She has gently requested that I kind of keep the major parts of the collection confined to my study and to the game room," he said. "There's not much in my collection that's probably very inherently valuable ... it's just that they're associated with so many good memories."
Highlights:
• Signed basketballs from every KU men's team since 1995, the year Zabel moved back to Lawrence.
• Framed photos of some of KU's greats, including Clyde Lovellette, Wilt Chamberlain and Dean Smith.
• KU banners, some of which flew over downtown Lawrence.
• A trio of red and blue pendant lights that once hung in Allen Fieldhouse.
• Confetti from a key game Zabel attended with his three siblings. "Probably my most prized possessions in my whole Jayhawk memorabilia collection is a handful of confetti that I picked up from the floor of the Alamodome after we won the national championship," he said. "I look at that and I think about how I felt when we won."
Zabel, a cardiologist, did his internal medicine residency and cardiology fellowship at Duke University. Any chance he'll be cheering for the Blue Devils Tuesday night?
Relax, we're talking about the guy with a 400-pound Jayhawk in his foyer.
"I will not have any divided allegiances at the Duke game," he said.