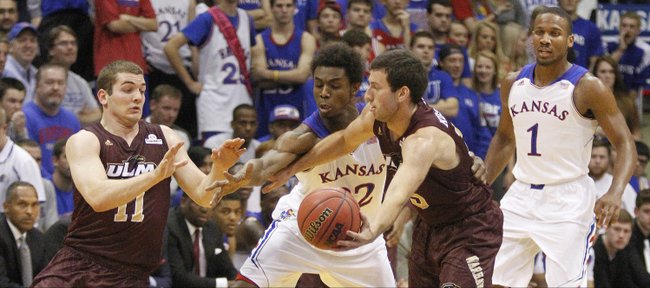 Photo Gallery
KU basketball v. Louisiana-Monroe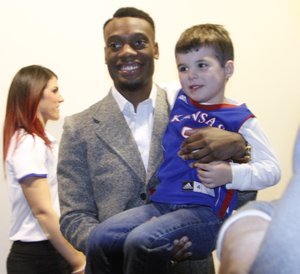 Images from Friday night's 80-63 KU victory over Louisiana Monroe.
Podcast episode
Tarik Black, Andrew White and Wayne Selden discuss KU's 80-63 victory over Louisiana Monroe
Podcast episode
Kansas University men's basketball coach Bill Self talks about his team's effort and all the fouls that were called during KU's 80-63, season-opening victory over Louisiana Monroe.
Box score
• Kansas-Louisiana at Monroe
Document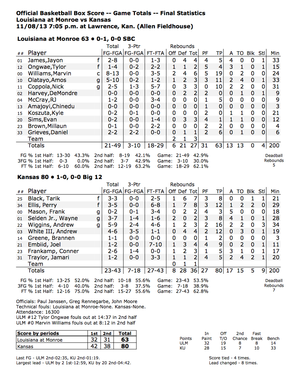 This wasn't the typical regret of a smaller-school coach following a game at Allen Fieldhouse.
ULM coach Keith Richard's biggest frustration after his team's 80-63 loss against Kansas University on Friday wasn't his team's shot quality. Instead, it was his team's accuracy.
"We got the ball right where we needed to get it and didn't score some layups," Richard said. "Maybe it was because of their height; maybe because we just missed them. I don't know, but that was a little bit discouraging."
The box score backed up Richard's claim. ULM made just nine of 15 layup attempts, and 12 of 18 shots at the rim if one counted the team's three dunks.
"When you play on the road, and you play a team like this, you've got to make them all," Richard said. "We made a lot. We've got to make them all to have a chance to win. We'll get better at that."
The Warhawks (0-1) were able to get those close-in shots for a variety of reasons. For one, they spread the floor and were able to catch KU a step late with a few backdoor cuts. They also were able to get dribble penetration from guards Jayon James and Amos Olatayo that eventually led to easy shots.
ULM — a 27-point underdog — remained competitive early in the second half, when leading scorer Marvin Williams put in a layup with a foul that eventually cut the lead to 47-41 with 15:50 left.
After the play, Williams marched over in front of his bench, screaming out his satisfaction to his teammates.
"I definitely felt like we were in the game at that point," Williams said. "It was just the fact that we kept fighting. When we keep fighting, I just get excited."
Williams was the highlight for ULM, scoring 19 points on 8-for-13 shooting in 24 minutes before fouling out with 8:12 left.
"I think for the first game, I did pretty good," Williams said. "But it's hard for me to pat myself, because I fouled out. Like coach said, I've got to adjust to the new rules."
The game also held some extra significance for Williams, who was matched up in the post against former high-school rival Tarik Black.
Williams attended White Station High School in Memphis, while Black went to Ridgeway High.
So who won those matchups?
"It was a tie. I'm not going to bad-mouth him. It was a tie," Williams said with a laugh. "He won some matches. I won some matches."
Black said he knew Williams was a talented player before his breakout performance Friday.
"I'm glad we got the 'W' obviously," Black said, "but I want to see him be successful, because he's from the hometown and a guy I've actually talked to a lot."