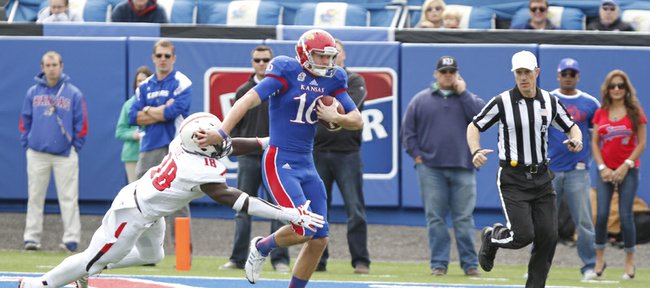 Richard Nixon had Watergate. Bill Clinton had the liaison with his intern. At the urging of a "friend," Monica Lewinsky decided not to have her blue dress laundered.
In both scandals, the cover-up was even worse than the crime. In the case of failed New York City mayoral candidate Anthony Weiner and his sexting habit, the failure to cover up was a scandal unto itself, but that's a conversation for another day, or maybe not.
For Kansas University football coach Charlie Weis, it's with Fake-gate that he keeps digging himself a deeper hole. He did it again Tuesday at his always-entertaining weekly presser.
A rehash for those who repressed one of the more ridiculous plays in Kansas football history: Oct. 5 against Texas Tech, on fourth-and-13 from the KU 16, punter Trevor Pardula took off on a failed fake punt. Afterward, Weis said that if the punter saw the Red Raiders in a certain alignment he had the freedom to attempt a fake and that the "young man," thought he saw them in the vulnerable alignment, so he took off.
On Tuesday, Weis returned to the play, shovel in hand, foot in mouth. He was talking about how in every game except Baylor, KU has found itself on the wrong end of a third-quarter play from which it couldn't recover.
He referred to the play as, "the fake punt that I'll take full blame and responsibility for. You know, I'll pass it down after I leave here, but I'll take it right here in front of you. So say that's a dumb call, say the coach is just an idiot. But it's still 20-10 at halftime and the first play of the third quarter is a deflected interception that gets run down to the 4-yard line."
Translation: I'll take the blame, then I'll take a breath and then I'll excuse myself from all blame.
He was laughing when he said it, but it doesn't change the reality that he doesn't think that he goofed in not telling the punter, All-American candidate Trevor Pardula, not to even think about faking if the field position is, oh, say, inside the 40 and the yards-to-go are more than, I don't know, seven. The play should have had an automatic kill switch. Because of that, I don't care whether Pardula made the wrong call or whether Tedarian Johnson and Shane Smith missed blocks. The play never should have happened because the coach should have forbidden it.
If Weis does reverse the losing ways of a football program that has lost 26 consecutive Big 12 games, he'll be remembered for having an offense ill-suited for a college team that can't count on having superior offensive-line play year in and year out and for a remarkably lousy passing game.
Those who realize the importance of issues beyond wins and losses will be grateful for the turn-around he has executed in the area of failed tests ranging from urine to math to English.
And everyone will remember him as the coach who tried a fake punt from the 16 with 13 yards to go for a first down in the second quarter of a tie game and just couldn't bring himself to own it.
What a shame.