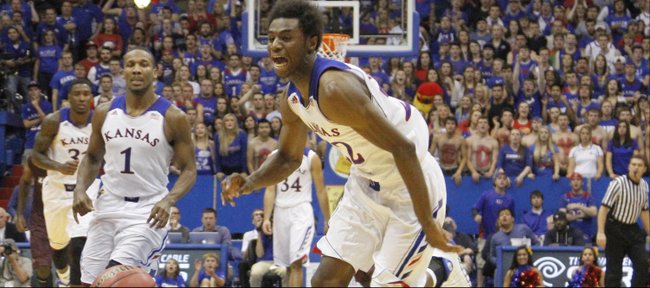 Photo Gallery
KU basketball v. Louisiana-Monroe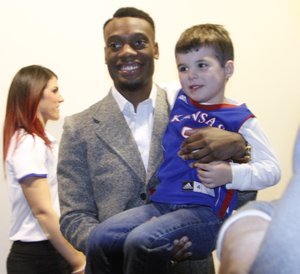 Images from Friday night's 80-63 KU victory over Louisiana Monroe.
Podcast episode
Tarik Black, Andrew White and Wayne Selden discuss KU's 80-63 victory over Louisiana Monroe
Podcast episode
Kansas University men's basketball coach Bill Self talks about his team's effort and all the fouls that were called during KU's 80-63, season-opening victory over Louisiana Monroe.
Box score
• Kansas-Louisiana at Monroe
Document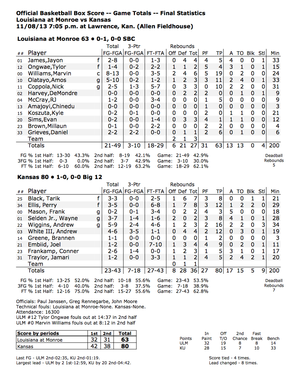 The first game of Andrew Wiggins' Kansas University basketball career could best be described as "efficient," coach Bill Self said on Friday night in Allen Fieldhouse.
"I thought he did some good things," Self said after Wiggins scored 16 points off 5-of-9 shooting (2-4 from three) with three rebounds, three steals, two assists and two turnovers in KU's 80-63 win over Louisiana at Monroe.
"Of course he made a couple of shots and everything. You can go through the whole team and you want more aggressiveness. You want guys to have more pride defensively. We got a chance to crack it several times during the game and didn't crack it, because there's not the killer instinct to crack," Self added.
Noted Andrew White III, who scored 12 points: "He did well. He got into the flow of the game quick. He is very unselfish. He throws the extra pass. Tonight he was smiling. I felt he enjoyed the game."
Wiggins, who played 34 minutes, most of any freshman at KU since 1987-88 when records were first kept, was not made available to media after the game.
Embiid's debut: Freshman center Joel Embiid had nine points and four rebounds in 11 minutes. He did not play the first 15 minutes of the second half.
"At half, that number zero (Marvin Williams, 19 points total) scored eight points on him. It wasn't all his fault but we need to guard," Self said. "It's not an equal opportunity deal. I thought he did pretty well when he went back in."
Noted Embiid: "I was very nervous, shaking on the bench. I tried as hard as I could tonight to help us win the game."
Almost: Tarik Black just missed ramming a dunk off a lob from Wayne Selden in the second half. The pass was a bit off target.
"I told them (teammates) to stop talking about it in the locker room. I'm hurting about it," Black said with a smile.
Red-shirt talk over: Arkansas transfer Hunter Mickelson will be the only Jayhawk to red-shirt this season. Brannen Greene and Conner Frankamp, who were possible candidates, both played, thus eliminating the possibility of red-shirting.
30th season: KU play by play broadcaster Bob Davis opened his 30th season as voice of the Jayhawks. He's once again assisted by former KU guard Greg Gurley.
Stats, facts: KU has won 41 straight home openers and 12 straight season openers. ... Leading 23-21, a layup from Perry Ellis sparked an 8-0 run over the next 1:49 to expand the Jayhawks lead to double-digits, 31-21. Jamari Traylor sparked another 8-0 run late in the first half, with a basket and foul shot with 2:58 left in the first half to give the Jayhawks their largest lead of the half, 42-30. ... The combined 58 team fouls were the most in a Jayhawk game since 58 fouls were called in the KU (22) vs. Maryland-Baltimore County (36) game on Nov. 23, 1991. ...Kansas attempted 43 free throws, most by the Jayhawks since 46 were attempted against Baylor on Feb. 9, 2008.