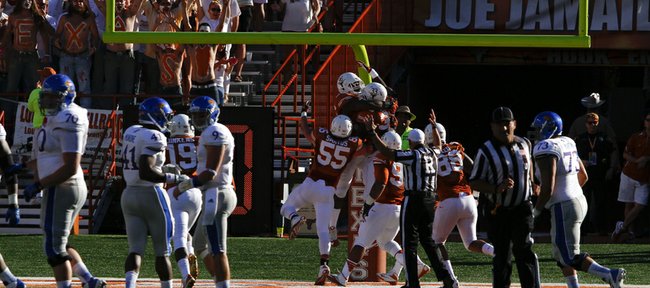 Five games into the Big 12 Conference schedule, a trend has developed with the Kansas University football team and the third quarter.
In all but one of their five conference losses thus far, the Jayhawks have been victims of backbreaking, momentum-changing plays that turned competitive contests into more comfortable victories for KU's opponents.
In the loss to Texas Tech on Oct. 5, it was a deflected pass that turned a 20-10 game and KU possession into a three-score lead for the Red Raiders. A week later, at TCU, two Jayhawks collided while tracking down a TCU wide receiver, who split the collision and raced 75 yards to the end zone on the first play of the second half to give the Horned Frogs a 17-10 lead en route to a 27-17 victory.
Against Oklahoma, on Oct. 19, a pass interference call on the Jayhawks set up the Sooners with a first-and-goal and allowed OU to turn an 18-13 halftime lead into a two-score cushion early in the third. And, last week, at Texas, a strip-sack fumble return for a touchdown by the UT defense pushed Texas' lead from 14-6 to 21-6 and put the game out of reach.
Although it's been tough to pinpoint why the third-quarter catastrophes have occurred, KU coach Charlie Weis has been able to determine what has not gone wrong.
"Stamina has not been the issue," Weis said. "So this isn't a question if the guys are playing hard, or whether or not they have no juice left, there's been a critical thing that has happened in the third quarter."
Many have speculated that KU's third-quarter issues — the Jayhawks have been outscored 69-31 in the third quarter this season — stem from the adjustments that opposing coaches make at halftime. But Weis said Tuesday that most of the mistakes that have killed KU after halftime have been on the Jayhawks themselves.
"When a ball goes off a guy's hands into another guy's hands, that's not an adjustment," Weis said. "That's a deflected pass that you just caught and ran down to the four yard-line. Or when you have two guys collapsing on one to go make a tackle on a swing pass and they run into each other and the guy takes it to the house, that wasn't an adjustment by the offensive coordinator. That's a missed tackle."
Don't confuse Weis' clarifications for excusing the poor plays. He's well aware that those types of mental mistakes can be crippling, and he expects that his team will not make them.
"What we have not done a very good job at, collectively, is overcoming those bad things that have happened somewhere in the third quarter," Weis said. "That's what we haven't done a good job of, and that's what we've got to do better at."
One thing that makes the mistakes so tough for KU to bounce back from is the fact that the Jayhawks have struggled to put points on the board. That, too, is by design, Weis said, because he knows his offense does not have the firepower to keep up with the rest of the Big 12. He learned that when the Texas Tech game got away from KU — Kansas led 10-0, gave up 45 unanswered and lost 54-16 — and has game-planned each week since to avoid a similar outcome.
"There have been teams that have been down three touchdowns and they don't blink an eye," Weis said. "And next thing you know the game is tied. That's not the game that we're trying to play right now. Obviously, we're trying to play a lower scoring game."