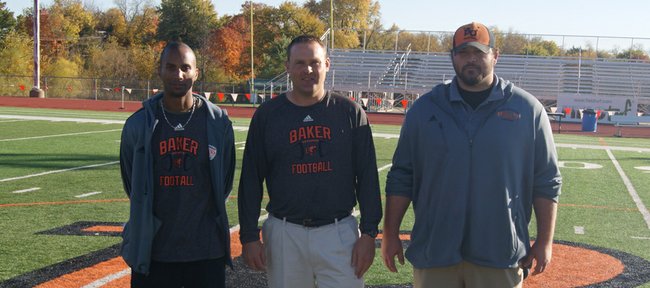 Baldwin City — The 1995 and 2007 Kansas University football teams often are argued as two of the best in school history.
One place where that debate comes up is just a short drive from Lawrence, at Baker University. Former KU football players Jason Thoren, Tony Blevins and Caleb Blakesley coach the defense of the NAIA's sixth-ranked football team.
Thoren and Blevins were both members of the 1995 Aloha Bowl team that defeated UCLA, while Blakesley played on the defensive line for the Jayhawks in their Orange Bowl victory over Virginia Tech in 2008.
"We have our arguments about the better KU team all of the time," Thoren said with a laugh following Baker's 54-10 win against Evangel, Saturday in Baldwin City.
While the current Jayhawks squad is ranked second to last in the Big 12 in scoring defense, Thoren, Blakesley and Blevins have the Wildcats holding opponents to 11.8 points per game in their past five contests.
"We had a little rough start, rocky start, and I think after the second or third game I told them, 'You guys are going to get better, and I'm going to get better as a coach, too,'" Blevins said.
Blevins is in his first season with the Wildcats as the defensive backs coach. He played cornerback at KU in 1993 and 1994 before sitting out the 1995 season because of a knee injury. Blevins came back from the injury to play free safety in 1996 and 1997.
Following his collegiate career, Blevins signed as an undrafted free agent with the San Francisco 49ers in 1998, but was waived a short time later and picked up by Indianapolis. He finished his professional career with the Colts in 2000.
Blevins had been out of football until this season, and Baker junior defensive back Gunnar McKenna believes the first-year coach has already helped the secondary improve.
"He really stepped up from a coaching perspective and getting down the defense, really harping on technique and getting us ready," McKenna said.
Blevins was convinced to join Baker's coaching staff by former KU teammate Thoren, a friend since freshman year of college.
Thoren was a four-year starting linebacker with the Jayhawks and also had a standout career at Lawrence High, leading the Lions to three straight state titles from 1991 to 1993.
After leaving KU in 1997, Thoren knew his future was still in football. He signed with the Kansas City Chiefs in 2000 and played one season with the Berlin Thunder of NFL Europe.
He then moved on to coaching, starting at the University of Minnesota as a graduate assistant under his former college coach, Glen Mason. After three seasons with the Golden Gophers, Thoren was contacted by Mike Grossner, who was taking the helm at Baker.
Thoren has been the defensive coordinator for nine of the 10 seasons since he arrived in Baldwin City.
"It has been awesome playing under coach Thoren. He's very enthusiastic about the sport," senior defensive lineman Austin Hamm said. "He really lives and breathes it. He always brings that enthusiasm to practice, and even when we are watching film, he tries to make it as exciting as possible."
After qualifying for the playoffs in 2012, the Wildcats returned NAIA All-American defensive end Andre Jolly, who led the nation in sacks. Jolly suffered a season-ending knee injury Oct. 5 against MidAmerica Nazarene University, but several players have filled the void under the direction of Thoren and defensive line coach Blakesley,
Unlike Thoren and Blevins, Blakesley came to Baker shortly after playing at KU.
"I didn't really know a lot about Baker. Shoot, I didn't even know coach Thoren was up here until I came into the office and saw him," Blakesley said. "Once I got here, it's a special place to be. I love it here."
Hamm said Blakesley's knowledge from his playing days has helped the Wildcats over the past three seasons.
"He brings experience to where he just got done playing in the last few years with part of a program that really turned it around at KU and really won some big games," Hamm said.
The Wildcats are hoping that the postseason success Blakesley, Thoren and Blevins had at KU will be the next thing that transfers over to their coaching careers. Baker (8-1) plays its next-to-last game of the season on Saturday at Graceland in Lamoni, Iowa.