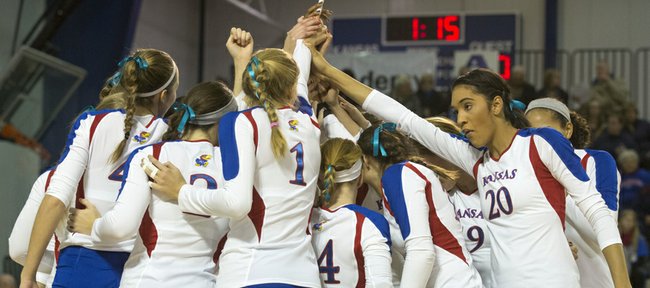 Kansas University fifth-year senior volleyball hitter Catherine Carmichael, who started the 2013 season as an important member of the rotation, did not play in five of seven matches from Sept. 20 to Oct. 9.
Perfectly healthy, the 6-foot-2 Manhattan High graduate simply had been beaten out for court time by other, equally-talented Jayhawks.
"My role has changed quite a bit, but everybody's role changes. Sports is one of those things your role can change any second, so you have to be ready," Carmichael said with a shrug after rocking eight kills in the Jayhawks' 25-15, 25-18, 25-19 rout of West Virginia on Wednesday night in Horejsi Center.
Showing no signs of rust, she's been more than "ready" the past six matches — ones in which she's re-established a prominent role.
"I'm excited," said Carmichael, who had 18 kills at West Virginia, 16 at TCU and 15 at home against Iowa State in her recent rebirth. "Everybody has their ups and downs. This is an older team and more mature team. We know how to work together and that works in our favor."
Obviously it would have been easy for elder statesman Carmichael to brood during the time she'd been sent to the sidelines to cheer on the likes of Sara McClinton and Tiana Dockery.
"That would be a typical response (to mope), but not with Cathy," KU coach Ray Bechard said. "She's invested too much time and effort. You have to understand where this kid came from, just learning the game when she got here as a red-shirt freshman, now being a dominant Big 12 player. I don't think she'll let that opportunity get away from her."
A two-time all-state basketball player, Carmichael used volleyball as a means to stay in shape during the offseason in high school. She had no dreams of playing volleyball in college.
"They (KU coaches) came to watch Morgan Boub (Olathe) play in a tournament. I guess I had a good game," Carmichael said. "My head coach came to me and said, 'KU would like to talk to you.' I said, 'Oh really, what about?' That's how it all happened."
"We saw something where we thought she had potential," Bechard said, crediting KU's assistant coaches for working countless hours with Carmichael, who arrived with limited knowledge of the game.
"She did not sleep the night before our first practice. She thought she would disrupt every drill we had," Bechard added.
"I was scared for my life when I got here," Carmichael said. "I was like, 'What have I gotten myself into?'"
Five years later, the Jayhawks will take a 19-5 record and 9-2 Big 12 mark into Saturday's 2 p.m. contest at defending national champion Texas.
She figures to play a prominent role in the match.
"Sometimes you play. Sometimes you don't. Nonetheless you stand there and cheer on your team and do what you can do," Carmichael said.
This, that: Freshman Tayler Soucie, the reigning Big 12 rookie of the week, had 10 kills and four blocks. "That freshman has been something," Bechard said. "You can always hear her voice and know she wants the ball." ... KU has a half-game lead over Iowa State for second in the Big 12. First-place Texas is undefeated. ... Junior Chelsea Albers became the first Jayhawk since 2011 to have a 200-kill/200-dig season after posting her 200th dig in the first set. ... Brianne Riley led the Jayhawks with 14 digs – her 50th-consecutive match with double-digit digs. She also led the Jayhawks with two aces. ... With a block assist, Caroline Jarmoc passed former teammate Tayler Tolefree (427) for the top spot on the Kansas career block assists list (427).