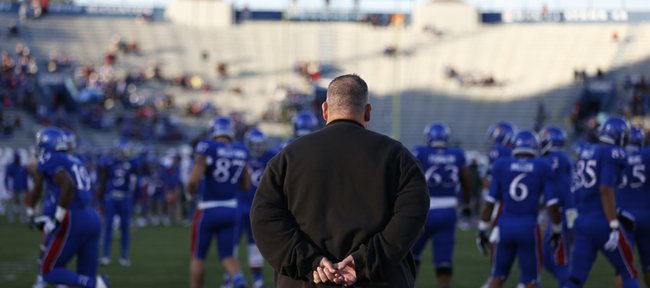 With four games remaining in his second season in town, Kansas University football coach Charlie Weis is more interested in looking ahead to what's still possible than back at what went wrong.
In Weis' eyes, the Jayhawks, who will kick off the final third of the season at 3 p.m. Saturday against Oklahoma State in Stillwater, Okla., have four games remaining to impart a positive impression of the 2013 squad. And although his team sits at 2-6 overall and 0-5 in Big 12 play, Weis believes any outcome remains possible.
"Here's what I told them on Sunday," Weis began. "This team will be remembered by what happens in the next four games. It will not be remembered by where you are right now.
"If we end up 2-10, it's not gonna be very good; 3-9, just a little bit better than we were last year; 4-8, they're showing signs; 5-7, OK, things are getting better; 6-6, they start building a statue."
Winning four straight certainly would go down as a strong finish, but, as they've done throughout the year, the Jayhawks are moving forward with the idea that every game presents an opportunity to make a statement.
"That's his message, and, of course, we'll reinforce it," KU assistant coach Clint Bowen said. "And it's one that does ring true. In these last four games, all the frustrations and all the things that happened this year, you can bury them."
With a winning season no longer possible, both Weis and Bowen said the focus shifts from worrying about bowl games, losing streaks and expectations, to getting the most they possibly can out of what's left.
"I don't have the answers to (what that is)," Weis said. "You could go 4-0, 0-4 or anywhere in between. But that's their legacy. Their legacy isn't where they are two-thirds of the way through the season. ... That's the perspective we're taking."
Added Bowen: "We're not ever gonna be as happy as we (thought). We've lost too many games to hit that point. But, if you do finish up really strong, at least you go into the offseason or finish your career at KU on a positive note."
More O-line tweaks
In yet another attempt to get more physical up front, Weis has changed things up along KU's offensive line, promoting Riley Spencer (left tackle) and Damon Martin (right guard) to the first team in place of Pat Lewandowski and Mike Smithburg.
"You can change schemes a little bit, which we do on a weekly basis," Weis said. "And then the only other thing you can do is change players."
With issues popping up on the offensive line all season, Weis often has talked about finding continuity on the offensive line to help KU's offense get going.
"That goes right out the window if we're not playing very well," said Weis when asked what the musical-chairs approach could do to the offensive line's chemistry.
WR health
Weis said Tuesday that four Kansas wideouts could be back in action this weekend against the Cowboys, with Rodriguez Coleman (leg), Josh Ford (concussion), Tony Pierson (concussion) and Andrew Turzilli (ankle) all nearing the point of return.
"There's a chance that all of 'em play," Weis said.
Pierson, who has been sidelined since the loss to Texas Tech on Oct. 5, was scheduled for full practice Tuesday. Ford, who missed the past two games, was practicing in a red, no-contact, jersey Tuesday. And Turzilli, listed as KU's first-string Z receiver on the latest depth chart, is hoping to play for the first time since Oct. 12. Coleman, whose injury last week against Texas wound up being nothing more than a badly bruised knee, also sounds probable for Saturday in Stillwater.
"Because he's starting to play better, I think he's in a rush to try to get himself back," said Weis of Coleman, who has four receptions for 160 yards and a touchdown in his last two games. "We have some reinforcements coming back this week."
2014 schedule released
Kansas football once again will end the 2014 regular season against its biggest rival.
KU will play at Kansas State on Nov. 29 in Manhattan, ending a 12-game slate that was officially released by the Big 12 athletic directors on Tuesday morning.
The Jayhawks will have six home games, with four coming in conference play. KU will play host to Texas on Sept. 27, Oklahoma State on Oct. 11, Iowa State on Nov. 8, then celebrate Senior Day on Nov. 15 against TCU.
KU also has road dates at West Virginia (Oct. 4), Texas Tech (Oct. 18) and Baylor (Nov. 1) before finishing the season with two away games at Oklahoma (Nov. 22) and KSU.
KU's 2014 schedule
Sept. 6 — SE Missouri State


Sept. 13 — at Duke
Sept. 20 — Central Michigan
Sept 27 — Texas
Ocg. 4 — at West Virginia
Oct. 11 — Oklahoma State
Oct. 18 — at Texas Tech
Nov. 1 — at Baylor
Nov. 8 — Iowa State
Nov. 15 — TCU
Nov. 22 — at Oklahoma
Nov. 29 — at Kansas State