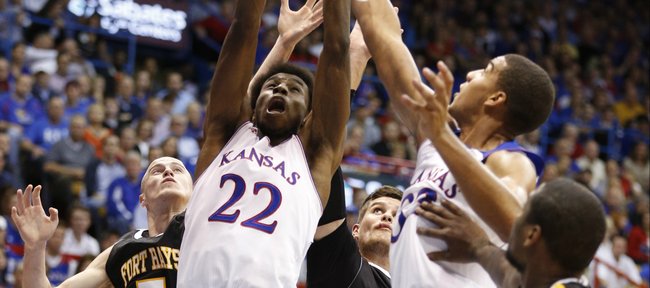 Photo Gallery
KU basketball v. Fort Hays State (exhibition)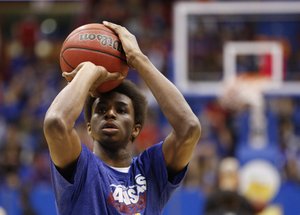 Images from Tuesday night's exhbition basketball game between Kansas and Fort Hays State.
Box score
Podcast episode
Frank Mason, Perry Ellis and Jamari Traylor react to KU's win over Fort Hays State
Podcast episode
Following Tuesday's 92-75 exhibition victory over Fort Hays State, KU men's basketball coach Bill Self said his team needs to turn up the energy more and he expects it will during Friday's regular season opener.
Andrew Wiggins-watchers had to wonder what the heck was going on late in the first half as Kansas University's basketball team built a 22-point lead over Fort Hays State on Tuesday night with the freshman phenom scoring nary a point.
"If you watch the game, early on he didn't seem as engaged as he should be and when he came back in he had an opportunity to dunk and he didn't run. He just didn't run so I subbed him back out. He played about 30 seconds. He sat out there quite a while," KU coach Bill Self said after Wiggins woke up to the tune of 10 points in the Jayhawks' 92-75 exhibition victory over the Tigers in Allen Fieldhouse.
"I love the kid, but he's got to take everyone's best shot every night and I didn't think he really brought it until he got back in the game after that and he was much more aggressive."
The 6-foot-8 Canadian, who played just nine minutes the first half and 20 for the game, hit the baseline for a hard slam with 3:04 left in the half, cashed a floater in the lane and added two free throws in scoring the final six points as the Jayhawks took a 56-36 lead into intermission.
He had a steal and breakaway dunk to open the second half and also flushed a lob from Frank Mason that would classify as the highlight-reel play of the game.
Wiggins joined a party of four in double figures. Perry Ellis and Wayne Selden scored 13 points, while Jamari Traylor had 11 points to go with Wiggins 10 off 4-of-10 shooting — 0-for-2 from three. Joel Embiid and Conner Frankamp had eight apiece in KU's second tune-up before Friday's 7 p.m., season-opener against Louisiana-Monroe.
"I think we've got a lot of depth," said sophomore power forward Traylor, who had five points in a 29-8 run that stretched a 21-20 lead to 50-28.
"We've got a lot of guys who can stretch the floor. We've got bigs who can score. Joel did a pretty good job in this game in the paint," Traylor added of the freshman 7-footer who had eight points and seven boards. "As far as Wiggins, I think he's going to get a lot more comfortable. Everything's going to flow a lot more easy. I wouldn't worry about today."
Traylor hit 4-of-4 shots and three of five free throws with seven boards in just 17 minutes. He was big in that 29-8 surge that opened with a Conner Frankamp three.
"The main thing is confidence," sophomore Perry Ellis said of the difference in power forward Traylor's game this season. "He has so much confidence now and that has put him over the top."
Noted Traylor: "I bring energy. I hustle. I just play hard. That's all I do." KU coach Self took notice of the play of the reserves.
"I thought our first unit was pretty stale with the exception of Frank (point guard Mason who had six assists, one turnover)," he said, noting KU fell behind, 14-9 early. "Then when we subbed, our second unit was better in the first half. They got after it and gave us some energy.
"We shot it a little better (50.8 percent, just 5 of 19 from three), but still our field goal percentage defense is awful," Self added.
Fort Hays State hit 49.1 percent, including eight of 19 threes.
"Our guys just don't buy in and understand. They'll say, 'We're winning. It's not a big deal. Coach we're still going to win.' That's not the mindset of our players that have played here in the past," Self said.
He did mention Ellis (six points in the 29-8 run) as one starter who played well the first half. As far as the bench, Self cited Frankamp and Greene (two threes apiece) as sparking the squad. And Embiid had a first-half block that lifted a lethargic team.
"I think he could be a guy obviously that if he can make some easy shots and bunnies and played a little stronger and made some free throws (he was 3-of-8 shooting; 2-6 from line) even in a game like that he could have 15 points and 10 rebounds," Self said of Embiid. "He is big and skilled and I thought he showed great athletic ability getting out on the glass. There were some good things, but we've got a long ways to go, a lot of work today. I thought it was a step in the right direction."