Tuesday, November 5, 2013
Photo Gallery
KU basketball v. Fort Hays State (exhibition)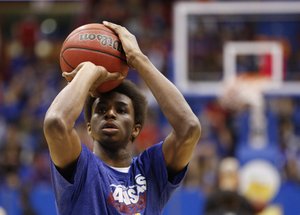 Images from Tuesday night's exhbition basketball game between Kansas and Fort Hays State.
Box score
Podcast episode
Frank Mason, Perry Ellis and Jamari Traylor react to KU's win over Fort Hays State
Podcast episode
Following Tuesday's 92-75 exhibition victory over Fort Hays State, KU men's basketball coach Bill Self said his team needs to turn up the energy more and he expects it will during Friday's regular season opener.
Every time he comes to Allen Fieldhouse, Fort Hays State coach Mark Johnson has the same fear in the back of his mind.
It goes something like this: His team comes in, has a few early turnovers, misses a handful of shots and suddenly is in a huge hole shortly after stepping on the court.
That's why Johnson was so proud of his guys following their 92-75 exhibition loss to Kansas University on Tuesday, when the Tigers avoided that early knockout blow.
"We never really hit the panic button," Johnson said. "I think we hit the 'tired' button each half, but I don't think we ever hit the panic button."
The Tigers actually were the aggressors early, jumping out to a 12-7 lead five minutes in following a three-pointer from James Fleming from the left wing. That forced a timeout from KU coach Bill Self.
"It's just a nice feeling for your team to be able to get off to a good start," Johnson said. "I think it relaxes you."
FHSU — the preseason pick to win the MIAA conference — couldn't keep up the momentum, falling behind 56-36 at the break while battling foul issues. The Tigers had 31 total fouls, which resulted in 39 KU free throws.
"I thought when we had our main group out there and pre-foul trouble, we were competing at a high level," Johnson said, "and I just was really proud of our guys to be able to do that."
Johnson also was grading his players on a curve, knowing just how talented he believes this KU team will be by year's end.
"This is the tip of the iceberg for them," Johnson said of KU. "They're all just probably trying to figure it out. From my perspective … the improvement from a week, I think you could see already. That's just going to continue to happen for them next week, the week after."
Fort Hays State's Dwayne Brunson, who put in a team-high 15 points on 7-of-11 shooting, left most impressed by KU's interior depth.
"They can just go and sub about every three minutes," Brunson said. "They're pretty big. They're going to be good this year."
Johnson believes part of the reason the score remained close was the strength of his team — jump-shooting. The Tigers made 49 percent of their field goals (27 of 55), an especially high number against a Self-coached defense.
The game also was a reunion of sorts for FHSU sophomore guard Craig Nicholson, a Wichita native who played on KU forward Perry Ellis' grade-school team growing up.
KU freshman guard Conner Frankamp also is originally from Wichita.
"I enjoyed being on the court with them again," said Nicholson, who added 14 points. "It's always good seeing them."