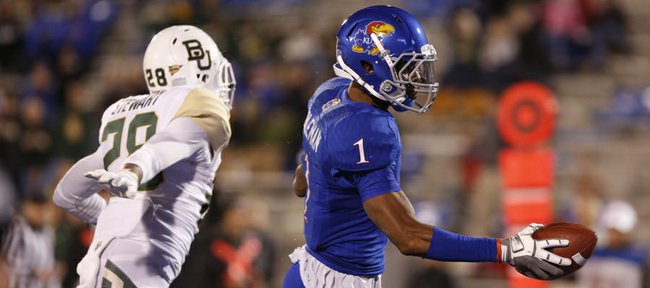 It's called "sticking a route," and Kansas University receiver Rodriguez Coleman has learned a whole lot more about it in the last few weeks.
That's because KU football coach Charlie Weis — after making the mid-October adjustment to give assistants Ron Powlus and Jeff Blasko added responsibility with the offense — has been spending more of his time at practice and in film sessions working with the receivers.
"Coming here, I really didn't have any type of route running. I relied on my athleticism and speed," said Coleman, a junior transfer from Garden City CC. "Coach Weis showed us how to stick our routes and come out of our breaks with speed (to) make plays."
So what exactly is "sticking a route"?
"When we're running one way, sell it the opposite way. Stick opposite the way you're going," Coleman said. "Say I'm going to a post (route) in the middle of the field. I'm going to stick like I'm going to a flag (route) and turn it up and make a play on the ball."
The added skill seemed to pay off against Baylor on Saturday.
Coleman came away with two catches for 75 yards, which included a 30-yard touchdown reception. Coming into the game, he'd had just three catches and 39 yards in his other five games.
"On the two catches I had, actually I made a good stick, and the ball was in the air," Coleman said. "I tracked the ball down and made a play."
Weis also has noticed recent improvement from the receivers.
"You actually saw more route definition. They weren't just running routes. They were competing for balls," Weis said. "And that isn't a shot at the receivers or (receivers) coach (Rob) Ianello; it's the extra pressure (of) the head coach being around you all the time. Now all of a sudden, you've got an extra set of eyes, and it happens to be the boss."
Weis certainly has the credentials to teach the position. He served as an NFL receivers coach for the New England Patriots in 1996 and the New York Jets in 1997 and 1998. During Weis' time with the Jets, wideout Keyshawn Johnson was selected to a pair of Pro Bowls.
Weis believes he saw progress from that unit two weeks ago, though that didn't seem to translate to the game in KU's 34-19 loss to Oklahoma.
"I think that they actually looked improved last week (against Baylor)," Weis said. "I'm not saying that we looked great, because we didn't look great anywhere. But, they actually improved, and I expect them to be better this week."
Coleman is expecting the same from himself as he continues to get extra instruction from Weis.
"I'm just going to go out there every day at practice and keep learning," Coleman said, "and keep putting stuff in my repertoire to go out there to put our team in the best position to win."
Weis says there's still room for growth from all the receivers in the final five games.
"If that's the step we made last week and can continue and make a step like that each week," Weis said, "then we're heading in the right direction."