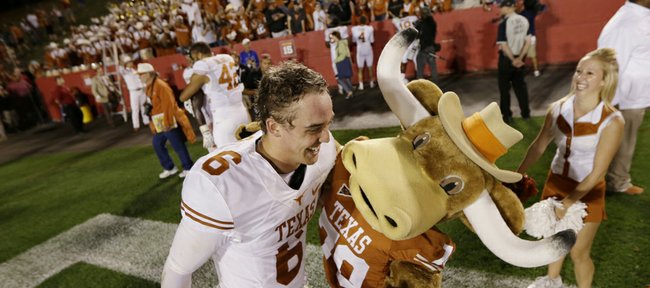 Austin, Texas — In Longhorn country, Texas quarterback Case McCoy is and likely always will be known as the younger brother of UT legend Colt McCoy, who led Texas to an appearance in the 2010 national championship game and finished his career as the second-winningest quarterback in the history of college football.
In Jayhawk country, the younger McCoy is known as someone entirely different.
Case McCoy, a backup throughout most of his college career, came off the bench during last year's meeting in Lawrence to save the Longhorns and steal victory from a Kansas team that had beaten up Texas all day.
The Jayhawks who were there last October remember that one all too well. McCoy finished 6-of-8 passing for 109 yards and a touchdown in less than a quarter and came on in relief of starter David Ash, whom the Jayhawks had beaten up all afternoon and intercepted twice during an 8-for-16 outing in which he threw for just 63 yards and led UT to 10 points. The role was familiar for McCoy, who has appeared in 34 games but made just 13 starts during his UT career. And, as he prepares to make his fifth start of 2013 against Kansas — once again in relief of Ash — McCoy finally looks like the Longhorns' quarterback and no longer like their safety net.
"He is a hard worker," said KU assistant defensive backs coach Scott Vestal, who spent one year coaching at Texas in 2010. "I was around him when he was a freshman, and there's no doubt in my mind that the other people believe in him, so he's got a little moxie there. His big brother casts a big shadow, and he came into our place last year and led 'em down the field when we had to get a stop, and we couldn't do it. And he was a big reason."
McCoy also has been a key cog in the Longhorns' stretch of four straight victories since starting the season 1-2. But it's not as if he has turned into his brother and become an incredibly accurate passer and equally dangerous runner. Instead, he has helped give UT an offensive identity.
"Case, obviously, is not considered (by the team) as a backup quarterback," KU coach Charlie Weis said. "He's well respected by his peers, he's very well liked, and the players are playing hard for him."
That includes the UT defenders, who also have been energized by the younger McCoy's confidence and production.
"He's just a guy that spoke up (and) had the right things to say," defensive end Jackson Jeffcoat said. "He knows what to do. He's the kind of guy, when he speaks up, you listen to him. He's just grown as a football player. He's gotten even better."
McCoy feels that, too. And he's finally letting himself enjoy the role that he has wanted since he first saw his older brother suit up in burnt orange and go on to win a whole bunch of games. But enjoying his current success and taking it for granted are completely different mind-sets. And McCoy's not about to let one negatively affect the other.
"It is more comfortable," he said of being entrenched as The Man. "At the same time, that's when it gets scary, when you start becoming complacent and comfortable. That's something I haven't let myself do."
So, forget the 858 yards and five touchdowns in McCoy's four starts this season. Forget the Longhorns' four consecutive victories, their out-of-nowhere domination of rival Oklahoma and even last year's surprising save against Kansas. This is all new territory for McCoy, a quarterback who finally is earning recognition for his play and not his name. A guy who has Texas right where they want — and expect — to be.
"We understand where we are," McCoy said. "We understand how we've been playing. But what makes us optimistic is we see how much better we can still get. There's still plays to be made. .. It's been enjoyable, addicting. You want to go back and get it the next week."
Added Vestal: "When there's a (family) lineage there, a lot of times there's a little extra chip on your shoulder to blaze your own trail. And I think that's what he's doing. He's a good person. He's doing a nice job quarterbacking that team. And they've caught fire lately."