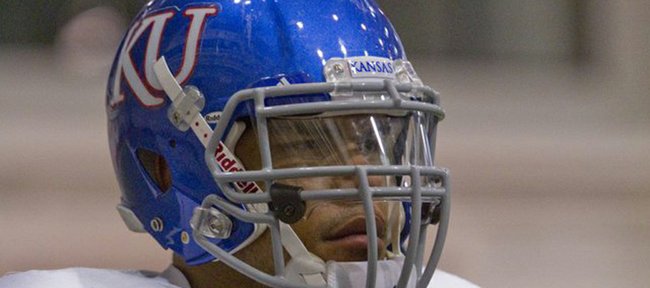 I believe more was at work in Charlie Weis' bringing problem child Chris Martin to Lawrence than setting him loose on quarterbacks. Martin's football talent, of course, played a huge part in it, but so, I suspect, did the Father Flanagan side to the Kansas University football coach.
Weis is equal parts braggart and unusually humble coach. He's a smart, down-to-earth funny guy around familiar faces. With strangers, he can come off as a distant grouch. He's a pal to glitzy celebrities, yet such a blue-collar dresser and family-first man. His complex psychological makeup seems to include a healthy dose of a burning desire to rescue wayward souls.
The probable-cause paperwork in the Martin case alleges in Count 1 that he did "unlawfully, knowingly, and feloniously take property, to wit: U.S. Currency and marijuana, from the person or presence of another ... by threat of bodily harm or by force while armed with a dangerous weapon."
Already, whispers that bringing so many junior-college transfers (18 signed) to Lawrence in the same year was asking for trouble have grown to a roar, thanks to the horrific allegations leveled against Martin. Regarding the young man's chances of maintaining a life not defined by penitentiary rules, it bodes well for Martin that he has no criminal record. That won't help him keep a uniform.
Martin brought a trail of instability with him to Kansas. He spent most of his youth in Oakland, Calif. He moved to Colorado for his final couple of high school years. He made an oral commitment to attend Notre Dame and backed out after Weis was fired. He then signed with the University of California, but transferred to Florida, citing distractions. There, he was cited for possessing a small amount of marijuana and repeatedly drew criticism for his social-media postings. He has made commitments to three FBS schools and hasn't played and isn't likely to play a down for any of them.
Weis not only believed in his own ability to reach Martin in a way no coach before him had, he seemed to enjoy the challenge. The coach lit up when he talked about the muscular defensive end, a man so quick for his size, just not quick enough, apparently, to get out of his own way. Weis thought his could be the loudest voice in Martin's head. If the alleged victim's depiction of the facts holds true or close to it, Charlie thought wrong.
Viewing it with a relatively stable mind, it's always impossible to understand how someone with such a great opportunity, such enormous earning potential, could put it all at risk by doing something no rational human would consider a wise decision. Martin, a sculpted 6-foot-4, 260-pound fat-burning specimen, is a model of physical fitness. Too often, we equate physical fitness with health, forgetting it's only half the equation. Generations from now, we might devote as much time researching, testing and treating mental fitness, but it first must escape the realm of taboo. On that front, we have such a long way to go.
I came away from my lone one-on-one interview with Martin excited that he used such raw language and had the sort of personality that lends itself well to playing football, especially on defense. I also felt as if he was what we decades ago referred to as "a different sort of cat," with a lot of junk-yard dog in him.
He amounts to Exhibit A of why recruiting so many junior-college players, a one-time strategy by Weis in order to jump-start the program, has its risks. Weis has said that in future classes he would like to have a balance of 75 percent high school, 25 percent juco players.
Most athletes who attend junior colleges do so for at least one of three reasons: 1. They want to develop their bodies and skills so that they can draw more attractive offers than they received out of high school; 2. They need to improve their academic transcripts to gain admission to the school of their choice; 3. Behavior problems.
In Martin's case, Door No. 3 landed him at San Francisco City College and then KU. Who knows where next.
For every such move that backfires, Weis will become more selective in opening Door No. 3.
In researching personality types who tend toward rescuing people, I stumbled upon a website for the Sjolander Road Fellowship, an organization that grew out of a bible-study group out of Bayton, Texas. In the writings on that website, a most interesting rhetorical question was posed: "How do I rescue someone who won't contribute to his own salvation?"