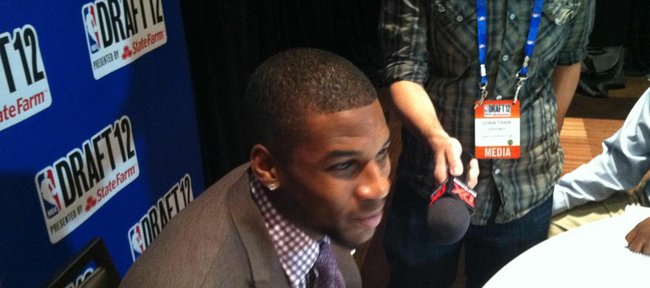 It looks as if top-five NBA Draft pick Thomas Robinson will be playing for his third NBA team next season — his second season as a pro.
Yahoo! Sports says the Houston Rockets have decided to deal the 6-foot-10, 237-pound former Kansas University power forward to a yet-to-be-determined team to create salary-cap space for free agent Dwight Howard.
Robinson, who started the 2012-13 season with the Sacramento Kings before getting traded to Houston, will make $3.52 million next season, money the Rockets need to shed from the payroll to land Howard.
Robinson averaged 4.8 points and 4.5 rebounds in 70 games his rookie season for Houston and Sacramento.
"The Rockets' coaching staff prefers forwards who can space the floor with their shooting ability but the 6-foot-10 Robinson is a more traditional back-to-the-basket power forward," writes Yahoo's Adrian Wojnarowski.
The NBA's free-agent period begins July 1. Former KU players Cole Aldrich (Kings) and Xavier Henry (Pelicans) are free agents. Josh Selby is also looking for a team after being released by Cleveland.
Paperwork, paperwork: KU did not officially announce the hiring of SMU's Jerrance Howard as assistant coach Thursday. The announcement is expected to come at any time. Also, Iowa State has yet to announce the hiring of KU director of basketball operations Doc Sadler as assistant coach, which also is expected any day.
"Could formalizing a hire of someone like Doc Sadler to replace departed assistant T.J. Otzelberger be coming soon? Stay tuned," writes Randy Peterson of the Des Moines Register. No other candidate has been mentioned as a possibility to join ISU coach Fred Hoiberg's staff.
Roundball Classic: The fifth-annual Rock Chalk Roundball Classic will be held at 7 p.m., June 13, at Free State High. Doors will open at 5:30 p.m. The game, which raises money for local children battling cancer, will feature more than 20 former Jayhawks. There also will be a postgame autograph session and pregame concert. Tickets are available at the door before the game or at 23rd St. Brewery, AAA on Wanamaker in Topeka and Dr. Leiszler's Dentistry in Baldwin. For information, go to www.facebook.com/rockchalkroundballclassic.
Elite Eight: Jahlil Okafor, a 6-10 senior from Chicago's Whitney Young who is ranked No. 1 in the Class of 2014, said Monday his eight finalists are: KU, Arizona, Baylor, Duke, Illinois, Kentucky, Michigan State and Ohio State. Another top Chicago recruit that figures to hear from former University of Illinois player and assistant Howard is No. 5 Cliff Alexander, 6-8 from Chicago Curie, who has not mentioned KU prominently in the past.
Kevin McLemore to Brown Mackie: Ben McLemore's brother, Kevin, a 6-foot guard from St. Louis' Normandy High, has signed to play at Brown Mackie College, the Salina Journal reports. He averaged 14.7 points last season.
"This is Kevin McLemore, not Ben McLemore," Brown Mackie coach Francis Flax said. "They look identical. People who saw him when he was here thought he was Ben. He's a slasher-type. He has a really good mid-range game. He gets into the lane and can score in a variety of ways. He has a high basketball IQ."
Ben's No. 1: ESPN's Jay Bilas ranks Ben McLemore his top prospect in the NBA Draft, projecting him as a "starter to all-star."
"Overview: McLemore is the player in this draft who is most likely to mature into an All-Star. His talents are considerable. The only question is whether he has the temperament and assertiveness to be a star performer on the NBA level. If selected by a team with an established star, McLemore can have the room to mature into one himself," Bilas writes.
Bilas lists Jeff Withey No. 22, listing him as a "rotation player."
"Withey will be able to protect the rim in the NBA and can challenge shooters around the goal and do so without fouling. He can make open shots, but is otherwise limited in the post. He lacks physical strength in getting and holding position against physical post players," Bilas writes.