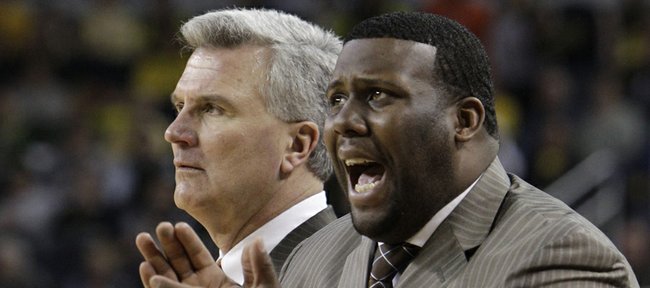 SMU assistant basketball coach Jerrance Howard is Bill Self's choice to replace Joe Dooley as full-time assistant on Self's Kansas University basketball staff.
Howard, 33, who played for Self at Illinois from 2000-2003, is expected to be named in a news release sometime today, once all the university paperwork is complete.
"We have talked seriously the last few days, but nothing officially has been done. If everything comes true, it's what I'll do," Self said Wednesday, referring to hiring Howard.
"We hope to have someone soon," Self added, referring to an official replacement for Dooley, who was named head coach at Florida Gulf Coast on April 18.
Howard, a native of Peoria, Ill., who worked last season as assistant coach for former KU coach Larry Brown at SMU, spent five seasons as assistant at Illinois under Bruce Weber. Before that, he worked three years for Billy Gillispie as administrative assistant at Texas A&M; and director of basketball operations at Kentucky.
"Jerrance came highly recommended by Kansas coach Bill Self as a person that would be able to help us build SMU to national prominence as we move into the Big East," Brown said at the time of the hiring at SMU.
Howard — known as a great recruiter with ties in Chicago as well as Texas — played point guard for the Illini. He was tri-captain as a junior and senior and two-time winner of the Kenny Battle Award. The accolade is given to an Illini player who "earns the respect of his teammates through hard work and effort in games and practice each day."
During his career, Illinois went 104-31 overall — 48-16 in the Big Ten. The Illini won three Big Ten championships, a Big Ten tourney title and advanced to ithe NCAA Tournament all four years, reaching the Elite Eight in 2001 and Sweet 16 in 2002 and 2004.
Howard earned a bachelor's degree in speech communication from Illinois in 2004. He is married to the former Jessica Wordlaw, who also is an Illini graduate. The Howards have a son, Jerrance Jr., and daughter, Jaya Brooklyn-Rose.
What's up, Doc?: KU soon may be officially in the market for a director of basketball operations. Doc Sadler, according to various published reports, is a leading candidate to become a full-time assistant on Fred Hoiberg's Iowa State staff and soon could be named to that post.
Self said he has not begun looking for a replacement.
"Doc is with his family on vacation. He is currently visiting with some people about some different opportunities. I'm sure he'll have a decision real soon on what he's going to do," Self said.
Self said recently he believes Sadler would want either a head coaching or full-time assistant's job next season, meaning he likely would not be back at KU.
Summer school: Self said seven members of his eight-man recruiting class would be starting summer school at KU next week. Andrew Wiggins will visit with Self in Canada this weekend about his summer schedule.
"We think Andrew will come at some point in time (to school this summer). We don't think it'll be now. We're going to put the calendar down and look at everything," Self said. "We're going to visit with he and his family to generically talk about laying out the summer and what plans are and that kind of stuff."