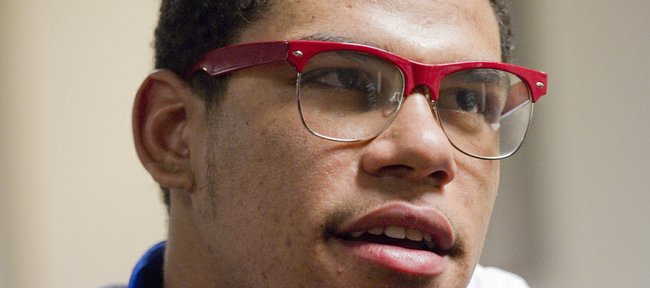 Three men, including a Kansas University football player, were arrested today in connection with a May 13 armed robbery in the 1900 block of Camelback Drive.
Have a tip?
Contact Journal-World reporter Caitlin Doornbos:
Junior Christopher Stefaun Martin, 21, of Oakland, Calif.; former Kansas player Jeremiah Letrell Edwards, 21, of Garland, Texas; and Joshua Edwards, 28, of Lawrence, were arrested on suspicion of robbing cash and marijuana from victims at gunpoint at a home on Camelback Drive about 10:30 p.m. on May 13, said Sgt. Trent McKinley, a Lawrence Police Department spokesman.
Martin, a 6-foot-5, 260-pound defensive lineman and Denver native who played at Florida in 2011, transferred to Kansas this year as a four-star prospect from City College of San Francisco. He held a five-star rating coming out of Grandview High in Aurora, Colo., in 2010. He was the 16th junior-college standout this year to pick Kansas.
Martin has been in trouble with the law before. He was cited for marijuana possession while playing at the University of Florida in 2011. He transferred from the school later that year.
Martin came to Kansas to reunite with Kansas football coach Charlie Weis, whom he originally committed to out of high school when Weis was still the head coach at Notre Dame. Their past connection, coupled with Weis' willingness to give talented players a second chance while trying to turn KU football around, made the reunion a good match. Upon first stepping foot on KU's campus, Martin talked about using his latest opportunity to set the record straight about both his abilities as a football player and his character.
"I had a taste of success and ended up letting immature decisions lead me down the wrong path," Martin told the Journal-World in February. "And that's been the biggest thing, taking those mistakes and turning them into positives so when I step foot here we can go down the right path."
The three men arrested today were booked into Douglas County Jail on suspicion of aggravated robbery, conspiracy to commit aggravated robbery and kidnapping. The information has been forwarded to the Douglas County District Attorney's Office for consideration, McKinley said, and the investigation is ongoing.
Weis said the team and athletics officials are aware of the arrests and gathering more facts.
"The behavior described in these charges is not acceptable at the University of Kansas," Weis said in a statement. "When we are confident that we have enough information, we will act appropriately."