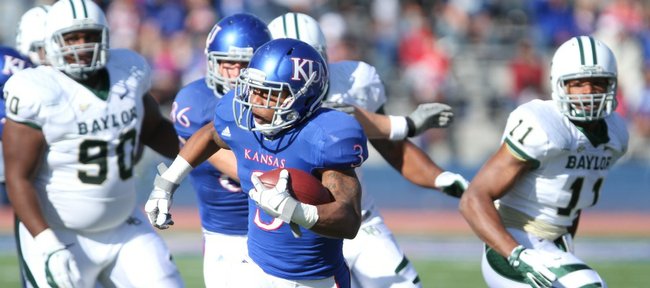 Scribble the name Darrian Miller onto the list of college football players taking advantage of Kansas University coach Charlie Weis' willingness to provide them with a second chance.
And put down Butler County Community College football coach Troy Morrell on the list of people who believe Miller, who rejoined the Jayhawks on Tuesday a year after Weis dismissed him from the program, will make good on the opportunity.
"There's no question he matured as a person and as a student while he was here at Butler," Morrell told the Journal-World on Tuesday afternoon. "I think he has grown up a lot. I think he really just came to the understanding what a team was and how to work within a team. That's where I saw him grow the most, just as a teammate."
Miller, a member of the high school Class of 2011, graduated from Blue Springs (Mo.) High early, came to KU in time for spring ball in 2011 and played in 11 games as a true freshman that season. On Tuesday, he signed a grant-in-aid agreement with KU and was welcomed with open arms by the same man who dismissed him following his freshman season.
Throughout his first stint at Kansas, there never was any doubt about Miller's ability to play at the Big 12 level. The former four-star running back was KU's second-leading rusher in 2011, finishing with 559 yards and four touchdowns on just 113 carries, and he became known for his big-play ability and relentless running style.
Off-the-field issues, however, proved to be his downfall — at least temporarily. Former KU coach Turner Gill suspended Miller for the final game of the 2011 season for "a violation of team rules" and, less than a month later, newly hired Weis punted him altogether.
Despite the 5-foot-11, 190-pound running back's questionable departure, which did not involve academics — Miller left KU in good standing and performed well throughout his time at Butler CC — Weis heard enough during a recent sit-down with Miller to believe he deserved the chance to atone for past mistakes. The fact that the Missouri high school all-time rushing leader adds immediate depth and talent to an already loaded backfield and returns with three seasons of eligibility remaining probably did not hurt his chances.
"We constantly research special situations concerning transfer students," Weis said in a press release. "Each situation is unique. Occasionally, through our due diligence, we find a player who fits. This was the case with both Darrian and (Miami, Ohio wide receiver) Nick (Harwell). We believe both young men are prepared to thrive at Kansas on and off the field."
Weis is not the only college coach who thinks Miller is ready to make a more complete impression during his second go-around with the Jayhawks.
"He put himself in a good position academically; he felt like KU was a good fit and he wanted the chance to go back and make a new beginning for himself," said Morrell, who said he only coached Miller this spring, since the former Jayhawk took classes elsewhere last fall and did not play a game for the Grizzlies. "That's why kids come to this level, to get another opportunity at a Division I program, and we certainly take a lot of pride in getting guys to that level. I'm just happy for his opportunity ,and I think he'll do good things up there."
A quick glance at Miller's Twitter feed Tuesday night indicated Miller did not plan to receive any special treatment upon his return to Lawrence.
"Just another member of this 2013 recruiting class, ready to work for everything I get. That's all," Miller wrote. His comments in KU's official press release backed such claims.
"After talking to coach Weis, we have decided to try to get this right," Miller said in the release. "Coach Weis is giving me an opportunity to rejoin the Kansas football team with stipulations. ... I made mistakes as a freshman that not only led to my dismissal, but hurt the Kansas football team. I regret this happened, but I have learned a great life lesson during this ordeal."
Miller continued: "Coach Weis has given me a rare opportunity. I am truly thankful and I intend to make the most of it. My only goal now is to help coach Weis return Kansas football to respectability."