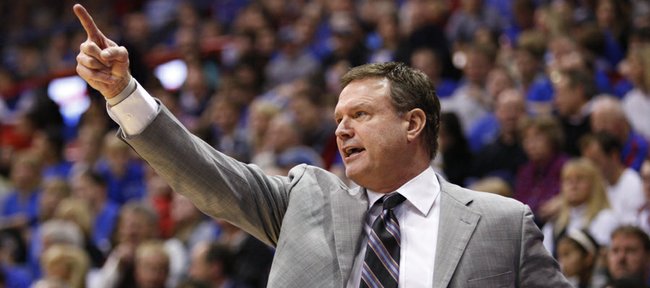 Indiana, Memphis, Oregon, Pittsburgh and yes, Kansas University are some of the schools that have profited this offseason from a controversial rule that lets basketball players transfer and become immediately eligible as long as they have earned an undergraduate degree.
The rule, which has sent Memphis' Tarik Black to KU and George Washington's Dave Pellom to Memphis — also Arizona State's Evan Gordon to Indiana, UNLV's Mike Moser to Oregon and Marshall's DeAndre Kane to Pitt — likely will be rescinded by next season.
Why? The National Association of Basketball Coaches, of which KU's Bill Self is a board member, dislikes the spirit of the rule.
"We have benefited. We've had others benefit who we compete against. I think it's a bad rule," KU coach Bill Self said Friday on Andy Katz's ESPNU college basketball show.
"You applaud anyone that can get their degree early. I am not knocking that at all," Self added. "You look at it from the big picture. If you are a mid-major and you sit (red-shirt) a guy because it's best for his life and he graduates after four years, you have to re-recruit him just to get him to come back to your school if he's any good at all. I think it's a bad rule," Self repeated.
Coaches believe high-major schools are tempted to raid mid-majors for seniors who are immediately eligible.
"When you get to the point you are potentially recruiting kids off other kids' campuses, I think it's a big-time negative situation," Self said, also recognizing potential problems with a rule that allows players to transfer and be immediately eligible for family reasons if they transfer to a school within 100 miles of their hometowns.
"I think there are so many things that create a competitive advantage ... (kids say) 'If it doesn't work out, I'll just go back home or I'll transfer.' I think it gives kids so many easy ways out as opposed to fighting through it. It (rescinding the rule) would probably be good for the overall betterment of our game."
In most instances, players must sit out a year — that is practice but not play in games — if they choose to switch schools.
"There's nothing wrong with transferring and sitting a year," Self said. "Guys who have received their bachelor degrees, more times than not I'd think it'd take more than one year to receive your master's (degree). If that's the case, sit out and get your master's if that's important to you.
"You can't knock kids who do it because the rules allow it. You can't knock colleges for accepting them because rules allow it."
Arizona State coach Herb Sendek is also against allowing players to transfer and be immediately eligible if they are armed with a degree.
"The rule in most cases is not being used as intended and is clearly adding to the widespread free agency in college basketball," Sendek told ESPN.
Noted Syracuse's Jim Boeheim: "We've just got into an area of unintended consequences. The rule was for if a kid really wanted a different academic program. Now it has gotten to be a strictly playing situation."
This to ESPN from Wisconsin's Bo Ryan: "I positively believe a fifth-year guy should not be able to play right away. All they're doing is looking at curriculum, finding a program that a school doesn't have. Are they really trying to get a master's degree? Or is it, 'Maybe my team isn't as good and we lost a lot and I want to be in the NCAA Tournament next year and ...' There's a market out there for this. You take guys through summer school and give them every academic advantage and then they graduate and then they can just go to another school.
"(This) isn't what college athletics was meant to be. How about the guy leaving his teammates and the coaching staff that developed him?" Ryan added.
Former Memphis guard Antonio Barton today will become the latest player to benefit from the rule. Barton, a senior, will announce for either Maryland, Kansas State, Tennessee or Texas A&M.; He has a degree, thus will play in games during the 2013-14 season.