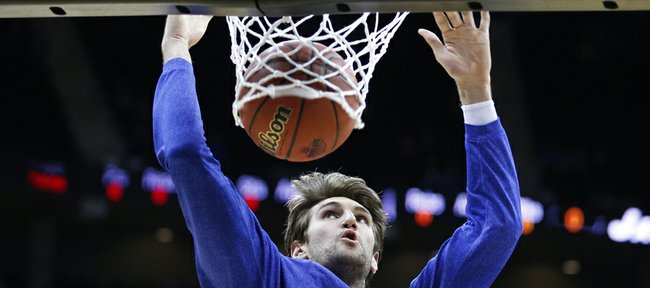 Former Kansas University basketball center Jeff Withey worked out for the Boston Celtics, who have the No. 16 pick in the 2013 NBA Draft, on Friday in Boston. He was joined by Marquette's Vander Blue, Virginia Tech's Erick Green, Providence's Ricky Ledo, Louisville's Peyton Siva and Colorado State's Colton Iverson.
Withey, a 7-footer from San Diego, recently met with executives from 12 teams at the NBA Combine in Chicago.
"Dallas (No. 13 pick) was a good interview," Withey told FOX Sports West. "Atlanta (Nos. 17, 18) was a good one, and Utah (No. 14, 21). They all went really smoothly for the most part. Those ones stood out to me. I got a good feel from every team. Every team said I presented myself well, and the whole thing, I felt like I got what I wanted out of it."
Withey is working out with the Wasserman Group and trainer Rob McClanaghan in Los Angeles as the June 27 Draft approaches.
Of his skill set, Withey said: "I don't have the best offensive game, but defensively, I feel like a guard-driven game helps me out with blocking shots. That's what I do best. Going into the NBA, hopefully I'll feel very comfortable doing what I did in college at the NBA level.
"Also, I have a jump shot that I've been working on and trying to perfect. It's my 15-foot jump shot. So pick-and-pop, I think that's something that can be very strong for me and that I'm working on."
On McGary: Withey spoke with the Detroit Free Press about Michigan freshman sensation Mitch McGary's deciding to return to Ann Arbor for his sophomore season. The 6-10 McGary had 25 points and 14 rebounds in a Sweet 16 win over KU.
"He's a great hustle player, a great energy guy and he's going to do really well next year," Withey said. "I'm surprised that he didn't go to the NBA. What surprised me is he's a smaller guy but he plays bigger than what he is."
Tatum update: Jayson Tatum, a 6-6, 180-pound freshman point guard from Chaminade High in St. Louis, Mo., who is expected to be ranked in the Top 5 in the Class of 2016, tells Zagsblog.com he has scholarship offers from KU, Kentucky, Florida, Missouri, Illinois, Memphis and St. Louis.
"Obviously, he's talented and has size," ESPN recruiting analyst Reggie Rankin told Slam Magazine. "But his skill level is so far developed at this stage. He can make plays usually kids his age are not that advanced to do. He's got great size and a feel for the game, and ahead of his time for his grade. Being a 6-7 wing player, and versatile, will give him the opportunity to be a special player. I think he's a lock high-major player. If I'm an assistant coach at an elite program, I'm offering that kid based on what I know right away."
Tatum played last weekend at the Nike Memorial Classic in Georgia.
Maker update: Thon Maker, a 7-foot, 200-pound freshman from Carlisle School in Martinsville, Va., played well over the weekend at an EYBL tourney in Minnesota. He told Zagsblog.com he has offers from Arizona, Georgetown, LSU, Memphis, Miami, NC State, Ohio State and Virginia. The former soccer player from Sudan has recently heard from coaches from KU and Kentucky, he said.
Wiggins grateful: Future KU guard Andrew Wiggins of Huntington (W.Va.) Prep wrote a thank you letter to the community of Huntington that appeared in the Huntington Herald-Dispatch on Saturday.
"I am from Canada and I am going to Kansas to play college basketball. I will hopefully be drafted to a city that I enjoy. But I will always have a place for Huntington in my heart and memories. I will not forget all the sacrifices they made for me and my teammates. Thank you from the bottom of my heart," Wiggins wrote.
Transfer talk: Former Memphis guard Antonio Barton on Sunday chose Tennessee over Kansas State, Maryland and Texas A&M.;
Having already graduated, the 6-2 senior combo guard will be immediately eligible at UT, where he will play one season.