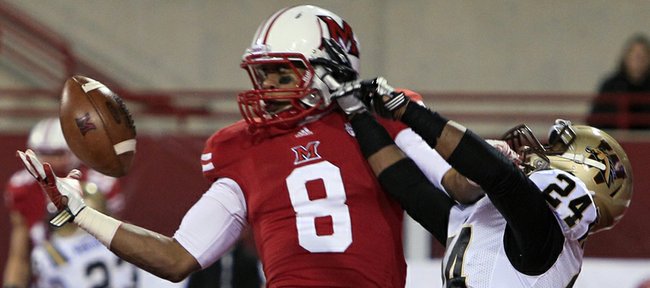 A team that couldn't buy a touchdown reception from a wide receiver last season just picked up a guy who has caught a whole bunch of them.
KU officials announced Wednesday night that Miami (Ohio) senior Nick Harwell will transfer to KU for the 2013-14 school year. KU coach Charlie Weis learned that the news was official just before speaking to a group of KU fans at the Ramada Inn Downtown Convention Center in Topeka.
A native of Missouri City, Texas, Harwell, 6-foot-1, 193 pounds, missed three games in 2012 with a knee injury, but still managed to rank 13th in the NCAA in receptions per game (7.6) and 14th in the NCAA in receiving yards per game (96.7). He finished his junior season leading the Mid-American Conference with 68 receptions for 870 yards and eight touchdowns.
In 2011, as a sophomore, Harwell was the NCAA's second-leading receiver with a 129.6 receiving-yards-per-game average. In all, he hauled in 97 receptions for 1,425 yards and nine touchdowns that season and earned first-team All-MAC honors, honorable mention All-America honors from Sports Illustrated and was named to the Biletnikoff Award Watch List.
Harwell was recruited to Miami by Mike Haywood, who was a member of Weis' staff at Notre Dame.
"It is the same offense and terminology we used my freshman year," Harwell told JayhawkSlant.com's Jon Kirby of KU's system. "That will help."
Harwell, who is ranked as the 18th-best wide receiver prospect for the NFL Draft class of 2014 by NFLDraftScout.com, comes to KU on the heels of a recent off-the-field issue, but sources have indicated that he is facing no legal trouble. In early April, Harwell was arrested and charged with criminal damaging, theft and unauthorized use of a vehicle/vehicle trespass after an early-morning incident at an off-campus apartment. Harwell was suspended from all football-related activities by Miami coach Don Treadwell.
Those close to the KU program believe Harwell may be the missing piece for a Jayhawk passing game that struggled in 2012.
It is unclear whether Harwell, who is close to graduating thanks to a year of prep school in 2009, will be eligible for the upcoming season. KU officials said the following Wednesday night: "Nick Harwell's eligibility is to be determined as the Compliance and Academic staff work through the process."
Add another date
Although Wednesday's Topeka appearance was scheduled to be the end of his preview party tour, Weis said he was in the process of trying to add an appearance in late June in Kansas City, Mo.
Nothing has been finalized yet, but Weis is targeting June 27 at The Dubliner in the Power and Light District as his ideal date and location.
Here they come
With more than half of the recruiting class of 2013 still yet to arrive, Weis said he did not expect any surprises in the coming weeks. He said half of the remaining group would report to campus the first week of June and the others would trickle in during the rest of the summer.
Weis on Wiggins
Not one to hide his passion for KU hoops, Weis was happy to share his initial reaction to the recent news that KU men's basketball coach Bill Self had landed Andrew Wiggins, the No. 1 prospect in the country.
"I talked to him 45 minutes beforehand," Weis said of Self. "And he wasn't feeling real good about his chances. Then I told him about when Manti (Teo) committed to me at Notre Dame. Everybody thought he was going to USC and then he announced and the place went berserk. I said, 'You don't know with a kid like this. We have no idea where he's really going.'
"Right after he committed, I called (Self) and, of course, he didn't answer. But I think you heard a 'Yeah, baby!' (on Self's voicemail) but it was about 20 octaves up from right there."