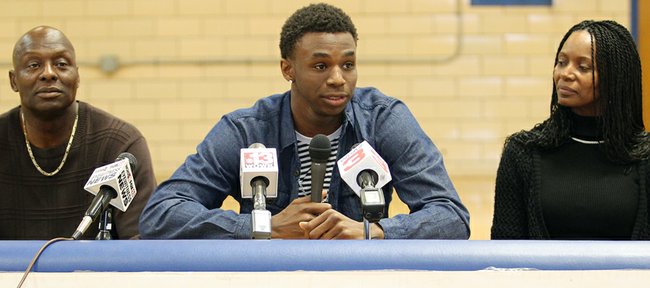 Bill Self's official title — the one that appears on his employment contract — is Kansas University men's basketball coach.
It could easily be amended to coach/general manager, however, considering how much of his time goes toward the pursuit of players, such as last week's prize catch — No. 1-ranked Andrew Wiggins.
"Recruiting is a never-ending process," said Self, KU's 10th-year coach, who has signed top-15-ranked players in Wiggins, Josh Selby (1), Xavier Henry (8), Julian Wright (8), Wayne Selden (12), Mario Chalmers (12) and Brandon Rush (13) at KU. "Not a day goes by you don't do something recruiting-related with prospects you are seriously interested in.
"With Kurt (Townsend), Norm (Roberts) and of course Joe (Dooley) just here, Danny (Manning) here last year and Jank (Tim Jankovich) before that, you've got so many guys (assistant coaches) who have played a huge role in representing our school and selling it well. We love the product we are selling, but the product alone doesn't sell it. We have to work, and I have a staff that does it as well as anybody."
Sometimes Self and his assistants follow players — such as Wichita's Perry Ellis — as far back as eighth grade. Other times they start recruiting players like Wiggins as late as the summer before their junior seasons of high school.
The specific pitch to Wiggins, a 6-foot-8 guard/forward from Huntington (W.Va.) Prep, went something like this: "The opportunity, the need, the exposure, the style of play, the success we've had of late," Self said of selling points. "The programs he considered (Kentucky, Florida State, North Carolina) have all got it going, and others have it going as well.
"We've had it going pretty well, too. We've been able to sell what we've done and been able to sell a track record. That said, you have to have a connection with people, and Kurtis Townsend did a great job with he and his family. I'd like to think he (Wiggins) has a comfort level with our players and recruiting class coming in. It was a team effort, without question."
Selling points
Self has some stats ready to present during in-home visits with prospects.
"We have won as many or more games than anybody of late. We've won the league (Big 12) nine years in a row," Self said. "We've had lottery picks in the league (NBA). We've graduated every kid we've had here as a senior except one. I think we're 27 out of 28 now. We've not played to less than a sellout in 12 years. There are a lot of things we can sell."
Self sometimes gives a history lesson to recruits. Last week, ESPN radio host Doug Gottlieb was amazed Self said he mentioned Jayhawks Ralph Miller and John McLendon, who are not on the radar of current high schoolers.
"Dr. Naismith was our first coach. Adolph Rupp did play here. Dean Smith did play here. Ralph Miller was here, and John McLendon was from here, and Wilt (Chamberlain) was from here. Start adding that all up, there's a lot of positive things that have taken place here," Self said, proud of KU's tradition and tree of coaches.
"There are so many people that impacted our game historically that basically got their start here. It's an easy sell, a great product. Still yet with players in today's time and immediate gratification and things like that, you have to be able to sell opportunity too.
"I think we can plug Andrew in and utilize him similar to Ben (McLemore, last year's leading scorer as freshman who is off to NBA), plus some, and I think that's something he was attracted to."
Wiggins had a great time during his campus visit — during which he attended KU's Senior Night game against Texas Tech. Wiggins left with a lasting impression of KU's Allen Fieldhouse and its fans.
"Once kids get out here and visit, it's different. Everybody that experiences it, even though you may expect it to be good, it's usually better than what you expect," Self said.
"Andrew liked getting to know the coaches (of schools recruiting him). His ego didn't bother him where he had to be recruited like a lot of people feel they have to be recruited. He's not one of those guys you had to talk to every day or write a note to every day. He's one of those kids you know says, 'I got my information. Coach, you do your deal. I'll do mine.' That's how it played out."
On one-and-dones
In a perfect world, Self would be able to coach players such as Wiggins, McLemore, Selby, Henry and Wright for four years, not just one or two.
But that's just not the way it is. Barring some freak occurrence, Wiggins will be here one year only.
"I don't think it's a good rule. I think kids should be able to go right out of high school if they meet a certain criteria, (if) an NBA selection panel says they are definitely a first-round draft pick," Self said of the one-and-done. "I don't think the fact the way rules are set up that you'll probably be losing a youngster after one year is a bad thing. There's been many one-and-dones out there the way the rule is set up.
"Even though I don't like the rule, it has really benefited our sport in that they (one-and-dones) have been great ambassadors for different reasons.
"I certainly believe if Andrew comes in and does what he is capable of doing, he can certainly fall into that group and be a great role model and ambassador for college athletics. I wish kids could go out of high school if that's where they should be as far as the people looking at them a certain way, but it would be nice to see the kids stay longer than one year in college as well."
Self said he hasn't spoken with Wiggins about the near certainty he'll be one and done.
"I know the deal. He knows the deal. He knows if he comes and makes us better, he'll be better and will have a chance to make a decision early in his career," Self said. "If that's the case, that's the case. That's the system we have."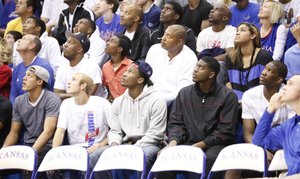 Stellar class
It's interesting that as Self begins his 11th season at KU, he has perhaps his top recruiting class. Complacency has not set in the KU coaches' offices.
KU's class consists of No. 1 Wiggins, plus No. 12 Wayne Selden, 6-5 shooting guard, Tilton (N.H.) School; No. 25 Joel Embiid, 7-foot center, Rock School, Gainesville, Fla.; No. 29 Brannen Greene, 6-7 small forward, Tift County High, Tifton, Ga.; No. 34 Conner Frankamp, 6-foot combo guard, Wichita North; and No. 76 Frank Mason, 5-11 point guard, Massanutten Military Academy, Woodstock, Va. Also, KU has landed former Arkansas center Hunter Mickelson, who will sit out next season then have two years of eligibility remaining.
"We had an unbelievable class when we signed Brandon (Rush), Mario (Chalmers), Julian (Wright) and Micah Downs (2005-06). That's a big-time class," Self said. "This one has more upside. Andrew (Wiggins) has a chance to be the first pick in the draft. Joel Embiid goes from being an unranked player to being the top center prospect in the class. He's raw but so gifted physically. Wayne Selden is a McDonald's All-American and top-15 guy. Everybody knows about those three, but they are sleeping on are the other three. Conner Frankamp can play for anyone, and so can Brannen Greene. Frank Mason is about as underrated of a point guard as there is in the class. It's been a great recruiting class, but we need to have a great recruiting class because we lost so many guys on a team that did pretty well this year."
KU's recruiting class is ranked second nationally behind Kentucky.
"We'll have bigs and guys who can score on the perimeter, and we'll have length and be athletic. We'll just be very young," Self said of the upcoming 2013-14 season. "We may not win as many games (as last year's 31-6 team), but from a talent standpoint, we have a chance to be very good and by the end of the season hopefully a team that plays for high stakes."