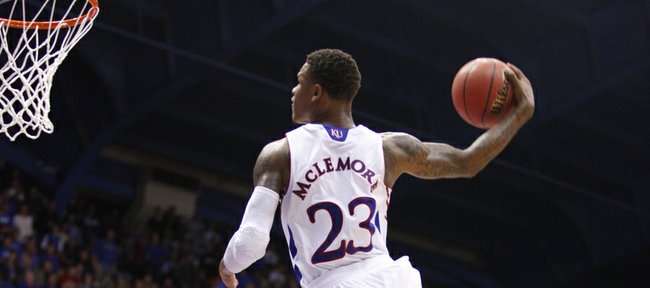 Related story
On Thursday in Chicago former Kansas University men's basketball star Ben McLemore went through a series of question-and-answer interviews with potential NBA employers.
On Friday, he got to let his skills do the talking.
Day 2 of the NBA's pre-draft combine featured McLemore and dozens of other draft hopefuls working through a series of on-the-court tests that will in some small way help determine where they are slotted in the June 27 draft.
Not surprisingly, McLemore, whose height officially was measured at 6-4 3/4 (with shoes) on Thursday, was one of the top shooting guards to test at the combine.
His maximum vertical jump of 42 inches tied him for first at his position. His standing vertical jump of 32.5 inches placed him third and his three-quarter-court sprint of 3.27 seconds tied him for fifth.
In addition, the athletic wing who led the Jayhawks in scoring during the 2012-13 season finished fourth in 3.11 seconds in the modified lane agility test (side-to-side and back through the lane) and ninth in the full-scale lane agility test, which incorporates all four sides of the paint and the player's ability to backpedal.
In an interview with ESPN's Andy Katz following his Friday performance, McLemore sized up what he thought he did well.
"Today, just my athleticism and my quickness," McLemore told Katz. "That's the main thing. That's what you want to have going to the next level. All the NBA teams know I can score the ball and other things like that, and (showing athleticism and quickness) was what I got in today and this week."
Katz also inquired about the individual interviews. Although they became redundant, McLemore said most team reps wanted to talk about his past.
"The kinds of questions they were asking me were basically to try to get to know me, my personality, what I do off the court, basically my surroundings and my background," he said. "They want to know what I can do to better the team. A lot of teams were asking me the same things, but I just told them that I'd go in, play my role and try to help them win more games. Just go out there and play my game with an open mind and a free mind."
ESPN NBA analyst Tom Penn said the interviews were the most important part of the process for a well-known athlete like McLemore, who did not participate in drills and is expected to be picked in the Top 3.
"So much of what goes on here is the eyeball-to-eyeball contact you can have with these (athletes)," Penn said during the broadcast. "You talk to him and you can see that Ben is a kid, a young kid. He comes across much less sophisticated. That's good in that there's development that's gonna come and a lot of growth, but you compare him to a (Indiana forward Cody) Zeller or other interviews where you can see that (other guys are) more of a grown man and more mature. The sweet spot is when you get to a kid with tremendous athleticism who's also a grown man and ready to come help. But, of course, you can't get it all at once."
Withey works out
Former Jayhawk Jeff Withey also completed athletic tests at Friday's combine in Chicago.
Withey's marks — maximum vertical jump of 29 inches, standing jump of 26.5 inches — paled in comparison to other center prospects', including Indiana 7-footer Cody Zeller's 37.5-inch max vertical and 35.5-inch standing jumps.
Withey didn't stand out during workouts, either, according to DraftExpress.com's Jonathan Givony.
"Jeff Withey clearly more of a 5 on 5 guy," Givony tweeted Friday. "Body doesn't look great compared to other big men, and he hasn't been so impressive in the drills."
Before the combine, DraftExpress.com predicted Withey would be selected with the 19th overall pick. On Wednesday, ESPN's Chad Ford wrote that Withey could be drafted in the "19-25 range."
Self honored at Vitale gala
Sarasota, Fla. — Kansas University basketball coach Bill Self was among the celebrities from the world of sports and entertainment who crowded the Ritz-Carlton Sarasota on Friday for the Eighth Annual Dick Vitale Gala to raise money in the fight against pediatric cancer through The V Foundation for Cancer Research. The event honored Self, former Florida State University and Hall of Fame football coach Bobby Bowden and former University of Connecticut and Hall of Fame basketball coach Jim Calhoun.
The sold-out Gala hosted more than 800 people and featured over 70 celebrities.