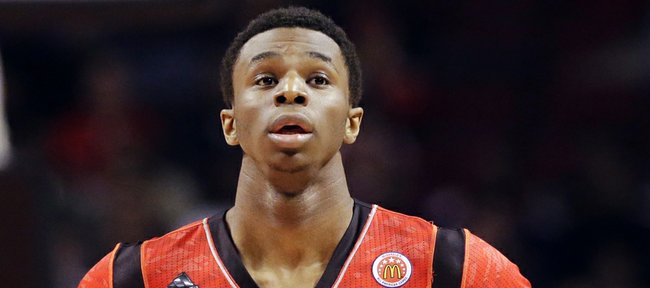 Andrew Wiggins, the No. 1 prospect in the high school recruiting Class of 2013, will sign a letter of intent with Kansas University, Florida State, Kentucky or North Carolina at 11:15 a.m., Central time, today in a ceremony at Huntington (W.Va.) Prep High School.
Just one media member — Grant Traylor of the Huntington Herald-Dispatch — will be allowed into the ceremony. He plans to relay the information to the world on Twitter (@GrantTraylor) and then post a story at his paper's website: herald-dispatch.com.
"I am going to tweet the answer out as soon as he says where he's going," Traylor told Zagsblog.com. "I'll tweet the answer out and hopefully get something on our website, and everybody can go from there. I know everybody's been waiting a long time."
Wiggins, a soft-spoken 6-foot-7 senior forward, told his high school coach, Rob Fulford, he wanted no lavish news conference, just an announcement before family and classmates and the one member of the press who regularly covers the team for the local paper.
Florida State opened the day Monday as the popular choice of various media members. As the day progressed, KU gained steam as perhaps being a frontrunner for Wiggins, who has been called the most-hyped recruit since LeBron James.
Jeff Goodman of CBSsports.com rocked KU nation late Monday afternoon by tweeting: "I'm changing my prediction for Andrew Wiggins' destination from FSU to Kansas. No 'inside info,' just a hunch based on talking to people."
CBS' Gary Parrish picks Florida State: "Combine the family's connection to the school with (coach) Leonard Hamilton's reputation as an elite recruiter with the fact that Wiggins won't really have to share the ball in Tallahassee," he writes.
ESPN's Dave Telep put out odds of the four schools landing Wiggins. Florida State's odds were listed at 35 percent, followed by KU (25 percent), North Carolina (20 percent) and Kentucky (20 percent).
"At Kansas, Thomas Robinson handed off to Ben McLemore, and now coach Bill Self wants to transition to Wiggins," writes Telep. "This is a program with a rich recent history of playing up to its star power. There are stories of how Self stood in front of his team and empowered McLemore to take more shots this year; that's the kind of stuff that ends up being told to a No. 1 recruit during an in-home visit.
"Kansas is traditionally one of the most talent-laced programs in the country. It already has No. 6 recruit Joel Embiid this year, but it could use a heavyweight recruiting victory. Josh Selby was a win and Xavier Henry was even bigger, but it's time to usher in a transfer of power to a big name. Kansas has a plan, a path and a destination for Wiggins. One insider once told me that Wiggins favors his relationship with Self over the other coaches involved. If I'm Self, the sell is simple: 'Look what I did for Robinson and McLemore, two players who weren't McDonald's All Americans.' Bonus: Wiggins' brother Nick will be a senior at Wichita State next season. For one year, traveling to see the boys would be very convenient for family.
"What concerns me: Some may point to the fact that Kansas is an adidas-sponsored program and Wiggins hails from a Nike-affiliated background. That's not a game-changer from what's been bantered about behind the scenes. However, KU is the only non-Nike program involved, and if Wiggins is thinking endorsements — and we can reasonably assume someone within his inner circle is — it might be easier to just stick within the comfort zone. Also, let's say he makes a decision predicated on winning a national title. Of the three possible title contenders on his final list of four, KU would — on paper — have the most difficult ascension to the top," Telep adds.
Eric Bossi of Rivals.com tweeted: "No point in waiting. My guess/prediction/whatever you want to call is FSU."
Wiggins was named the 2013 Gatorade National Player of the Year after averaging 23.4 points, 11.2 rebounds, 2.6 blocks and 2.5 assists for Huntington (30-3).
The final take comes from Huntington coach Fulford.
"I don't know where Andrew Wiggins is going," Fulford posted on his Facebook page Sunday. Monday night, he added: "Just a friendly reminder that Andrew Wiggins' signing tomorrow will be closed to the public and media. He wanted it to be private with just family, friends and classmates. I send this reminder hoping that people will not show up trying to get in. Unfortunately, you will be turned away. Thx for everyone's support!"
Tarik Black to visit: Tarik Black, a 6-foot-9 junior from University of Memphis who recently announced plans to transfer, visited Duke Monday and was to visit KU today, according to zagsblog.com. He has visited Georgetown and Oregon and also has spoken with coaches from Ohio State and San Diego State, Zagsblog reports.
Black averaged 8.1 points and 4.8 rebounds as a junior last season for the Tigers. He will be immediately eligible next season as a senior after earning his degree at Memphis.