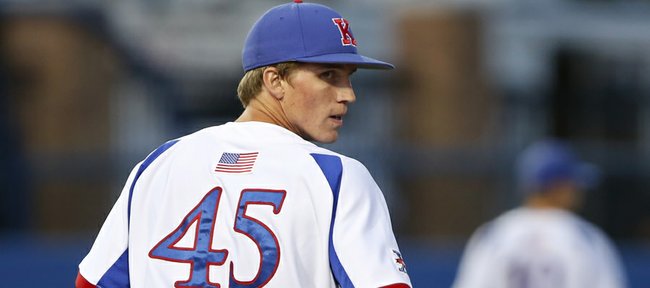 Despite what you might think from watching him pitch or reading his stat line, there's no magical story behind the road Kansas University closer Jordan Piché took to KU.
It's a tale that has been told thousands of times. Solid high school player goes the junior-college route, hoping to parlay two years of success there into a shot at the Div. I level.
For Piché, a native of Greeley, Colo., that juco stop was at Indian Hills in Ottumwa, Iowa, and that success — a 9-4 record in 122 total innings as both a starter and a closer — was strong enough to make him relevant, though it did not exactly inspire coaches to flock to Ottumwa.
In fact, the Jayhawks, who open a huge, three-game series versus Kansas State at 6 tonight at Hoglund Ballpark, found their right-handed closer when assistant coach Ritchie Price received an email from Piché and decided to make the trek north to watch him pitch. Piché threw well with the KU representative in the stands, and things began to take off.
"After that, he told me they really wanted me," Piché recalled. "So I decided to take a visit. I remember when I got on campus, I was like, 'OK, this is where I need to be.' And then I met with skip (KU coach Ritch Price) and (pitching) coach (Ryan) Graves and that was kind of the final thing for me. I just felt at home and they really welcomed me with open arms."
Getting him to Lawrence was merely the start of what has turned out to be a fantastic partnership for both sides. Piché — the name is French-Canadian and is pronounced "Pi-Shay" — has been so good that Price has uttered his name in the same breath with some of the best closers in KU history. That includes Don Czyz, who, in 2006, became KU's first "Stopper of the Year" honoree by the National Collegiate Baseball Writers Association. That season, Czyz set KU single season (37) and career (138) records for appearances and also recorded a KU-record 31 saves. He earned first-team All-American honors and later was drafted by the Florida Marlins in the seventh round of the 2006 amateur draft.
"I've been a lot better coach when Donny Czyz and Brett Bochy and Jordan Piché were in that bullpen for me," Price said. "(Piché is) as good as anybody we've had."
Perhaps the most remarkable part about the junior pitcher's success story is that neither he nor KU's coaching staff knew exactly what they had when they signed him. Sure, they knew he had a live arm, but a dominant closer?
"Going into it, I didn't know if I was going to be a starter or a closer," said Piché, who handled both roles during his two seasons of junior-college ball. "I enjoyed both, but it was up in the air when I got here and, through the fall, they pretty much just said they'd place me where they needed me to fill a spot."
Talk about a home run. In 25 appearances, Piché leads the Jayhawks (31-18) in wins (6), saves (10), earned-run average (0.71) and boasts a 5.7 strikeouts-to-walks ratio, which also is tops on the team.
"I think what makes him really effective is the movement he has on his ball," said KU catcher Ka'iana Eldredge. "The other thing that really makes him good is he just pounds the strike zone."
Although his statistics indicate how dominant he has been, his 6-foot-1, 180-pound frame does not exactly strike fear into the hearts of the batters he faces.
Eldredge remembers the first time he saw Piché last fall.
"New guy coming in, I didn't know what to expect from him," the junior catcher said. "It was kind of like, 'OK, who is this guy?' It's not an intimidating thing. He's kind of a smaller dude, but the fact that he wants to be out there and he loves that spot, it's really fun to be a part of, and he brings a lot of energy and confidence to the team."
For Piché, having fun is what it's all about. That's why he's constantly smiling on the mound and that's why, even during the most intense moments of any given appearance, he keeps that grin and pitches with the freedom of a coach during batting practice.
"The more pressure, the more you can relax and get deeper into the game within yourself," Piché said. "I can't explain it. Sometimes I'll find myself not even realizing that the runner on third was the tying run until I get back to the dugout and then it'll be like, 'Whoa, that was close.'"
For the most part, Piché does his damage with two pitches. His fastball, which routinely crosses the plate in the 88-91 mph range, and his slider, which looks nearly identical, has the same movement, but tops out about 15 mph slower.
Piché is a three-time Big 12 Newcomer of the Week, and his ERA is second in the nation.
"I'm here putting numbers up that I would've never imagined," Piché said. "And I think I've shocked my whole family. It's been a humbling experience and a real pleasure. I just want to keep doing what I'm doing, stay in my same routine and just keep putting numbers up and having fun. That's the main part for me, having fun on the field with my teammates."