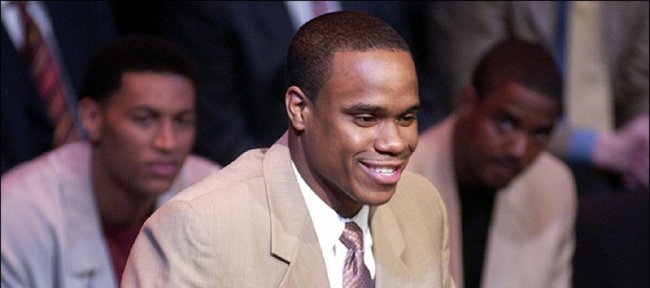 Former Kansas University basketball guard Michael Lee is seeking a new assistant-coaching position after working the past three seasons at University of San Francisco and two before that at Gardner-Webb.
The ever-enthusiastic 30-year-old Portland, Ore., native — who played for both Bill Self and Roy Williams at KU and worked as graduate student assistant on Self's 2008 NCAA-title-team staff — believes he brings much to the table.
"I coach the same way I played. I want to win. I really do want to win," said Lee, who resigned his position at USF after this past season (15-16) to pursue other opportunities. "I have great respect for the process. It's what I try to impart to the guys I've been able to coach.
"Winning is not a fluke. You have to be coachable. It's a team game, so you have to be a teammate. All that stuff impacts your ability to play," he added. "I try to stress that stuff. I have the highest passion for basketball. If I was not getting paid, I'd still be doing it."
Fifth-year San Francisco coach/former KU guard Rex Walters said Lee did a "great job" in his three seasons in the Bay Area.
"The guys love him. They miss him. It (his leaving) wasn't easy for them. It says something about Mike," Walters said. "He's a tireless worker, passionate about the game. I'd come back (to office) at 9 or 10 o'clock (at night), and if a guy wanted to get up shots, Mike would be there to open up the gym for them.
"He's great on the floor, really smart, a hard worker," Walters added, explaining, "day to day he wanted to pursue some different things. We support him on it and want nothing but the best for him. I've known Mike a long time. I want him to be happy doing what he loves to do."
Lee said he has spoken with Self and assistant Kurtis Townsend, coaches at North Carolina as well as other contacts he's made for advice in pursuing another job.
"It's been great at USF," Lee said. "I think there's a better fit somewhere for me. Between my wife and I, we've got three kids, so I'm just trying to find the right situation. I've been on the phone with some guys trying to figure out where I can get on.
"This was a great experience working under Rex. Rex being a pro (former NBA player), he knows the language. He understands the game. He understands the business of it. He's very hands-on, big on putting practices together. To sit in meetings and watch him draw different sets and wrinkles was definitely a great learning experience."
As was recruiting the great state of California, Lee said
"I established myself as a better recruiter on the West Coast," Lee said. "There are tons and tons of players in Northern California, Southern California. I was able to make good contacts in that way.
"When you can say you've recruited in California, that makes a huge difference."
Lee said he finds it hard to believe this year marked the 10-year anniversary of KU's NCAA title loss to Syracuse — 81-78 on April 7, 2003 in New Orleans.
"It's scary. When I hear that, I say, 'Time is really passing,'" Lee said. "It's really been a whole decade since that game. It still feels like yesterday.
"The bond is still tight," he added of a team led by seniors Nick Collison and Kirk Hinrich. It's the year Lee, Keith Langford, Aaron Miles and Wayne Simien were sophomores.
"I still talk to Wayne. Me and Miles talk almost every day. I talk to Jeff Hawkins a lot. When Chicago played Golden State, I went by the hotel and saw Kirk (Chicago Bulls) He got me tickets and I brought my daughter to the game. I've still got Collison's number. The respect is there."
Agents: Former KU guard Travis Releford has chosen Justin Zanik of ASM Sports as his pro representation, Releford said Wednesday. Elijah Johnson said recently he selected Andy Miller of ASM Sports, while Jeff Withey tapped Darren Matsubara of Wasserman Media Group. Ben McLemore has not yet revealed his choice of agent.
Tarik Black update: Former Memphis center Tarik Black visited Oregon Tuesday and will visit KU, Georgetown and Duke before choosing a transfer destination, ESPN reports. He will be immediately eligible as a senior next season.