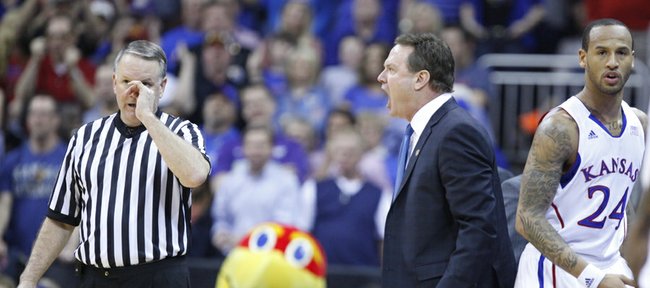 In somewhat of a surprise, the NCAA men's basketball rules committee Thursday didn't even vote on reducing the college shot clock from 35 to 30 seconds.
Most figured the issue would be addressed in an effort to increase scoring in games during the 2013-14 season. Instead, the clock remains at 35.
"I think they failed to come to a resolution that it would better our game," KU coach Bill Self said Thursday night.
He was in Indianapolis earlier this week to meet with the rules committee and attend other meetings as a board member of the National Association of Basketball Coaches.
"I think they (rules committee members) felt these other instances were more appropriate that can add more scoring to better our game rather than just trying to shorten the clock," Self added.
One of the "other instances" passed for next season is interpretation of the charging/blocking foul. Starting next season, the defender will be prevented from sliding into the offensive players's path at the last second.
"It's more like the NBA rule when the ball is coming up into the motion to shoot ... that's when the defender has to be set, whereas now (last season) he (defender) didn't have to be set until he (offensive player) leaves his feet. So that will make a lot more blocks than charges," Self said.
The rules committee will allow officials to use video monitors more in the final two minutes of games and in overtime. Late-game replays will be used to determine who should retain possession for a play out of bounds and for shot-clock violations.
"Going to the monitor like the NBA to make sure calls are right in the last two minutes in certain situations, not all, is a positive (change)," Self said.
Also, there will be an emphasis on calling fouls on defenders who keep a hand or forearm on an opponent or use their arms to stop an opponent from running by.
"All we are doing," Self said, "is trying to do a better job of enforcing the rules the way they are because style of play has dictated how the game is called too much. I think you'll see a lot of teams in the bonus early in the game early in the season until players get used to this."
Scholarship offer: KU has offered a scholarship to Stephen Zimmerman, a 7-foot, 215-pound sophomore center from Las Vegas' Bishop Gorman High, jayhawkslant.com reports. Zimmerman is ranked No. 2 in the recruiting Class of 2015. He also has received offers from Arizona, Connecticut, Notre Dame, Oregon, Oregon State, UCLA, UNLV, Memphis, UTEP, Auburn and Florida State.
Dixon update: ESPN's Jason King reports that the schools currently showing the most interest in former Missouri guard Michael Dixon are East Carolina, which Dixon has visited, plus Baylor, Colorado and Loyola Marymount. The former Tiger, who has been taking online courses since being removed from MU's team in November, has been playing pick-up games in the KC area and has reportedly played in some open-gym pick-up games with the Jayhawks in Allen Fieldhouse. Sources say Dixon, a former Lee's Summit (Mo.) West standout, has not spoken with Self about a possible transfer to KU.