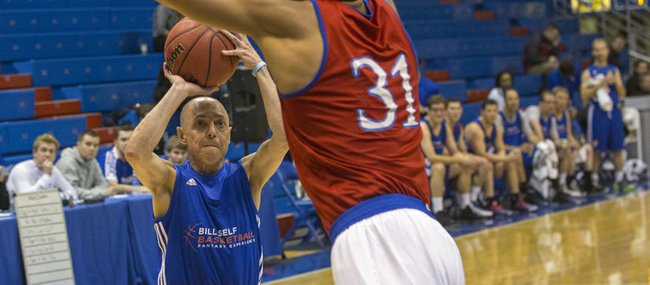 Captains Club members, who paid extra to attend this weekend's Bill Self Basketball Fantasy Experience, participated in a 32-minute game that included former Kansas University players Sherron Collins, Jeff Hawkins, Mario Little, Brady Morningstar, Tyrel Reed and Wayne Simien on Thursday night in Allen Fieldhouse.
"I'll be honest. I wasn't overly impressed with the conditioning of some of our campers," KU coach Self said, perhaps cracking the first joke of many this weekend. "The shooting percentages reminded me of some of our games in early February.
"It was good," Self added. "It was good to see those guys out there having fun."
Collins fires away: Former KU guard Sherron Collins hit a deep three to highlight a game which consisted of four, eight-minute quarters. KU players and campers were mixed on the rosters.
Collins said earlier in the week he plans to stay in Lawrence the rest of the spring and summer to get in shape and make a run at professional basketball.
"I hope so," Self said, asked if Collins is committed to getting in great condition. "He hasn't had the easiest path the last couple years.
"He is down here hopefully committed not only trying to get in shape, but also hang out with us and hopefully spend the majority of the summer here (working out with the current Jayhawks who attend summer school), helping us as hopefully we help him."
Collins, 26, was cut by the San Antonio Spurs last Oct. 5 early in training camp and did not play pro ball this past season.
At the camp: Coaches working the camp include former Wake Forest head coach Dino Gaudio, Winthrop coach Pat Kelsey and Marquette director of basketball Jerry Wainwright.
Self in favor of academic status quo: The NCAA Div. I board of directors Thursday decided to maintain the current sliding academic scale instead of raising the standards beginning in 2016. According to CBSsports.com, high schoolers "with a 2.5 GPA need an 820 on the SAT to be eligible. Under the proposed 2016 changes, the same student with a 2.5 GPA would have needed to score a 1,000 on the SAT."
"To me it's positive," Self said Thursday, "because there's been so many good things that's happened with all sports concerning APR and graduation rates I think we should give this an opportunity to study it longer before we do something near as drastic as what was being considered."
CBSSports.com talked to several unnamed coaches who said under the proposed new sliding scale, less than 25 percent of their players would have been eligible as freshman.
Peters update: Zach Peters, a 6-9 forward from Prestonwood Christian Academy in Plano, Texas, who left KU first semester after suffering a series of concussions, took an official visit to University of North Texas on Thursday, according to texasboysbasketball.com, gomeangreen.com and Denton Record-Chronicle.
Peters recently told the Dallas Morning News that he passed a concussion test in January after failing it four times previously.
Brett Vito of the Denton Record-Chronicle writes, "Peters appears as if he would be a good fit for UNT, which lost 6-foot-8 forward Tony Mitchell when he declared for the NBA Draft this spring. UNT lost Roger Franklin, its other starting forward, to graduation. UNT has just one player over 6-foot-6 returning next season in backup center Keith Coleman. Junior college forwards Armani Flannigan and Collin Voss have both signed with UNT, which also has high school forwards Greg Wesley, Josh Friar and high school center Tony Nunn set to arrive in the fall."