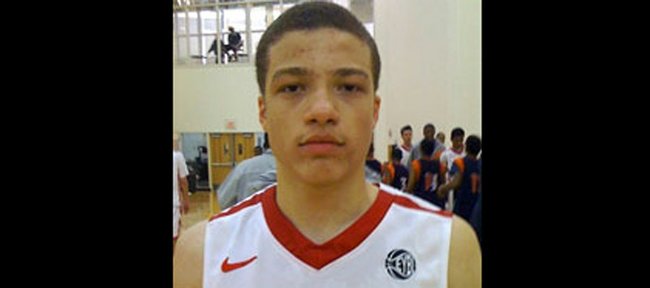 High-scoring Georgia small forward Brannen Greene — who orally committed to play basketball at Kansas University way back on Dec. 20, 2011, and signed his national letter of intent in November of 2012 — never got around to making an official recruiting visit to KU.
Not wanting to miss out on the experience of a lifetime, the 6-foot-7 senior from Tifton's Tift County High will join mom, Lori, and dad, Jeffrey, on an official excursion to KU this weekend.
"We just want to revisit the campus," Jeffrey Greene, a former basketball standout at Pittsburg State, said of KU, where the family has made three unofficial visits. "For the most part, (we want to) let mom and coach (Bill Self) and Brannen re-bond and kind of talk shop, get reacquainted. She hasn't been out to KU, yet. It's about time she gets to come and see what's going on."
Brannen scored more than 2,000 points in his prep career while averaging 27 points, 9 rebounds, 6 assists and 2 steals this past season while shooting 91 percent from the free-throw line.
He recently competed in the three-point shooting contest at the NCAA Final Four in Atlanta and also competed in all-star game in his home state. Last summer, Greene participated in Under Armour Elite 24 game in California.
"This kid is focused academically," Jeffrey said of his son, who is an A student. "There's one game we wanted, or I wanted, him to play in. Outside of the McDonald's game (to which he wasn't invited), we declined all other invitations. He's had a lot of things going on."
By coincidence, the Greenes will be in town the weekend of Self's fantasy basketball camp for adults. Jeff Greene, who has not signed up for the camp, is Pitt State's single-season scoring leader (716 points in 29 games in 1988 for 24.7 ppg average) and eighth on the all-time school scoring list (1,292).
"I'll play if they ask me," said Greene, who actually plays 1-on-1 against his son regularly.
"He dominates, but I beat him up and foul him, make sure it's physical," Jeffrey explained.
Brannen, by the way, will wear jersey No. 14 at KU. It's a tribute to his dad, who wore 41 at Pitt State.
"It's a reversal (of the number 41). It has something to do with my number," Jeffrey said, honored that his son chose to honor him that way.
Rankings: ESPN this week announced its final rankings of the top 100 high school players in the recruiting Class of 2013.
Four of KU's five signees were ranked, led by No. 6 Joel Embiid, 7-foot center, Rock School, Gainesville, Fla. Wayne Selden, 6-5 shooting guard, Tilton (N.H.) School, checked in at No. 14, followed by Conner Frankamp (6-foot combo guard, Wichita North) at No. 46 and Greene at No. 47. Frank Mason, 5-11 point guard, Massanutten Military Academy in Woodstock Va., was unranked.
KU's overall class, which now includes transfer Hunter Mickelson from the University of Arkansas, ranks second nationally behind Kentucky.
Rivals.com's final rankings have Selden No. 12, Embiid No. 25, Greene No. 29, Frankamp No. 34 and Mason No. 76.
Chol to leave Zona: Angelo Chol, a 6-9 sophomore at the University of Arizona, has decided to transfer, the Arizona Daily Star and other outlets reported Wednesday. Chol, who chose Arizona over KU and others out of high school, reportedly is interested in San Diego State as a possible destination.