Photo Gallery
Kansas and North Carolina (practice day)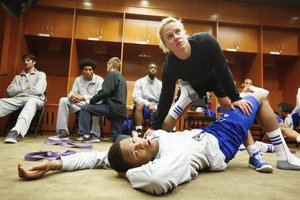 Images from a day of meeting the press at the Sprint Center in Kansas City.
Kansas City, Mo. — Less than impressed with a seven-point victory over No. 16-seed Western Kentucky, Kansas University's seniors conducted a players-only team meeting in the locker room Friday night.
"We talked about not letting nerves get the best of us and talked about how this is our last go-round," senior center Jeff Withey said. "Ben (McLemore, freshman) is probably going to go to the NBA, and we're all seniors (other four starters). If some things went wrong, we could have been done. Our season would have been done, and we'd never played again at Kansas. We've got to be more intense and focused and not let nerves get the best of us."
Senior Elijah Johnson said the Jayhawks' frame of mind will be fine for today's 4:15 p.m., third-round game against North Carolina in Sprint Center.
"Be aggressive, have fun, not be uptight," Johnson said. "Getting off to a good start. That starts in the morning when we wake up, having fun. You've just got to relax. It can be tough if you make it tough. Last night we made it tough."
KU coach Bill Self acknowledged his squad "tried hard. We were just tight. That game is behind us. I don't think that game will have anything to do with how we play (against North Carolina) at all."
299 and counting
Self's next coaching victory will be his 300th at KU. Earlier this year, he won his 500th game. He is 506-163 in 20 seasons overall, 299-58 at KU.
"I highly doubt he is aware of that," said KU freshman guard Tyler Self, the coach's son. "I don't think he looks at it as a personal milestone as much as a team thing and what it took to get there and all the players who have come through and all the players he's had the privilege to coach.
"I think he's just trying to win another game in the NCAA Tournament, and not looking at it trying to get his 300th win."
Press
Western Kentucky forced 17 turnovers against KU on Friday, making some wonder if UNC will press the Jayhawks.
"Well, I think we had opportunities to dunk a couple balls if we could just play catch as opposed to being at second base and throwing it into the stands," Self said. "It was almost like that. So we didn't do a great job against the pressure.
"Carolina will try to pressure us. I don't know if Carolina will try to press us, but I think they'll try to pressure us. We got to get better getting open one pass away. We have to get better at passing and handling. Once you are better at that, you have to be better at attacking pressure and scoring behind the pressure. That's something we didn't do a good job of at all yesterday."
KU prepared for WKU's press.
"We practiced against seven or eight guys (at a time) last week and didn't do a good job," he said. "I think it's something we can attack better and will attack better."
Like the Cyclones?
North Carolina has been compared to Iowa State in terms of running four guards around a big man.
"Well, they don't run the same stuff," Self said. "I think personnel there are some similarities, except Carolina's got a guy you can throw it to at 10 feet or throw it to him at three feet (James Michael McAdoo), and you can come away with two points or a foul, where Iowa State liked to spread it all over, all five spots.
"Certainly we haven't played against a so-called 4-man that can stretch it and shoot it with the range that (P.J.) Hairston does, not at all. Iowa State did have some 4-men that could make threes, but this is ridiculous how he makes threes and how many he can make, what a streak he can get on. That's a little bit different. But I do think the fact that we have played somebody that can stretch it from at least four spots at all times hopefully will be a benefit playing in the game tomorrow."
Talent
North Carolina has five McDonald's All-Americans in its starting lineup.
"I mean, that's great," said KU's Travis Releford, "but I don't know. We've got one (Perry Ellis). I don't know if that means anything. After McDonald's, you've still got to prove yourself in college all over again."
More from Friday
In defeating Western Kentucky, KU won the school's 2,100th game and became the first school in NCAA history to have won at least 30 games for the fourth straight season. Memphis won 30 for four straight seasons from 2006-09 but later vacated the 2008 season.
Series talk
UNC leads the all-time series against KU, 6-4. KU has won the last two meetings in the NCAA Tournament — 80-67 in last year's Elite Eight in St. Louis and 84-66 in the 2008 Final Four semifinals in San Antonio. First meeting between the schools was UNC's 54-53 triple-overtime win in the 1957 NCAA title game in Municipal Auditorium in Kansas City, Mo. KU beat UNC, 79-73, in the Final Four semifinals in 1991 in Indianapolis. In 1993, UNC beat KU, 78-68, in the Final Four semis in New Orleans. Only one game in the series has been played on a home court. UNC defeated KU, 78-70, on Dec. 17, 1960, in Allen Fieldhouse.
Tharpe says
KU guard Naadir Tharpe on the match-up: "Probably the most important thing is for our bigs now because North Carolina, they can shoot the ball really well. They play a little four-guard set. Our bigs are going to have to get out to the shooters as well. That's something that's going to be different than what Western Kentucky did."